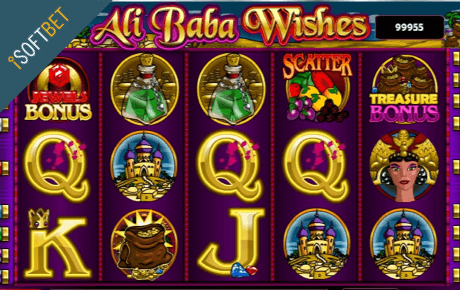 If you heard a story about one thousand and one night, then you must be familiar with the Ali Baba Wishes slot game. The atmosphere of this game perfectly fits the classic story because of its setting, characters, colours and much more. The gamer should get a right combination of gems and treasures. Then he/she will be free to get some precious prizes, such like real money. So you might think that this game is perfect for you, but be aware of adventures that will be a part of.
Ali Baba Wishes – a tale for an adult audience
Creators from iSoftBet studio made an immersive job by transferring an old good story on a new platform – digital pages of the website. You do not need to install anything on your device. The player does not need even to have a personal computer to become one of the Persian warriors. A mobile phone, a tablet or a laptop will be enough to launch gambling and play it whenever you want.
Ali Baba Wishes online slot is full of good storytelling, but to know exactly if you will like this game, it is possible to try the free trial version. It has every basic function from the original game, but you do not have to pay anything to enjoy. Unless you want to earn money.
Gameplay and Prizes
Ali Baba Wishes does not open its doors unless you say "open sesame openly"! It is a joke, do not do that. But to enter a real game, the player needs to use some options right down to the gaming reel.
In a special section of Ali Baba Wishes, the gamer can use some interesting boxes, such like "Coins" and "Lines". They provide a way to manage the amount of money that you want to put at stake, while enjoying the game. Click either on "Minus" to decrease the value, or on "Plus" to increase it. However, that is not the only thing the player can do to get a better chance on winning money.
It is possible to use the "Maximum Bet" option. It is kind of a function that changes everything with one click. Player's money will be bet on every single line within the reel and the value of them will be on maximum. The option comes in handy when you enter a jackpot mini-game. In this case, you will need to do this trick.
A magic option is "Auto Spin". This automatic function allows you to do nothing, except getting money out of the game. You can manage a specific number of times that function will use to spin the reel. Autoplay became popular because of mobile gamers in recent years.
Ali Baba Wishes – become rich with gold
Features and Bonuses
Just like in the original story, there are a couple of characters that you will definitely find familiar. The main rule of the gaming process is to collect matching slots on the same line to get boosts and bonuses. Collect pictures with the game characters to get increasers to your winning score and do not forget about scatters if you want to enter a funny mini-game. The gamer needs to combine at least three matching characters on the paying line to get bags full of golds or thousands of coins as a jackpot.