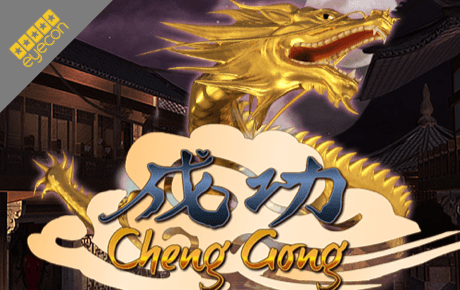 Have you ever been to China? If not then you probably saw a lot of films that describe the culture of this stunning country. The traditions of the country have been created for centuries, which is evidenced by different records of monks. In addition, China was developing secluded, therefore other countries could not affect its culture, which was transmitted by the Gods. Eyecon presented a game called "Cheng Gong". Here, a participant will have to compete for prizes, getting acquainted with the magnificent culture of the fabulous country!
Gameplay and Prizes
This is not the first game of the company that is dedicated to ancient China. On a screen saver, you can see a lot of Chinese attributes, among which there is a gong on which the story is based. After loading, the playing field appears. Against the background we can see the cloudy sky and a temple on top of a mountain. This landscape clarity opens and complements the chosen theme. Note that there are three fields on the top, which show the player's current performance (balance, bet and current winnings). Nearby you can find the name of the game that is represented by hieroglyphics. The central part of the screen is occupied by a playing field consisting of 5 coils and 25 lines for payments. All lines are displayed with the corresponding figures on both sides of the reels. Such small details add up to one great magnificent picture.
Now we need to familiarize ourselves with the control panel on which the game process depends. First, each player needs to visit the "help" tab, which represents the theoretical section. Here, the user will examine the paytable, the symbol coefficients and other rules. Nearby is the "bet" button, which will help you to set a necessary bet. In addition, the player can change the number of lines, for this he/she needs to use the "lines" button. In the centre, you will see the most important "spin" button that triggers manual rotations. In order for the participant to enjoy the scenery, the developer added the auto-play function. On the right, you will find the user settings where you can turn off the sound and turn on a full screen mode. So, the player can make the game as comfortable as possible.
Features and Bonuses
All symbols used are attributes of the Chinese culture. The beautiful princess is "wild" and "prize". In the first case, it can replace other pictures in profitable combinations. In the second case, the princess can launch "Dancing Princess Prize Pick". For this, the player needs to collect 3 such pictures. Here you need to choose one fan who will give you a prize. 3 red lights activate a round with the same name. Here the user has 6 free spins with a multiplier of x2. The dragon is also "scatter" and activates the "The Dragon Re-spins" bonus. It gives all players 5 free spins during which the free reels will be frozen.