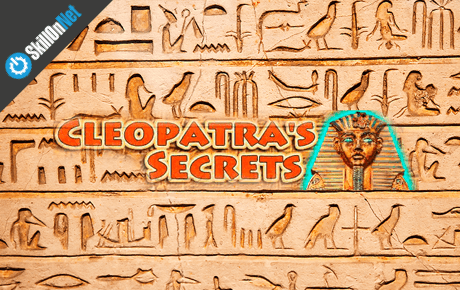 We regularly see releases from different manufacturers. As a rule, most of them are devoted to ancient Egypt, which hides many secrets and treasures. These game models carry users thousands of years ago to the hot sands of the desert and the deep waters of the Nile. Skillonnet decided to hit everyone and show how the perfect slot for Ancient Egypt should look like. Cleopatra's Secrets video slot is dedicated to the beautiful and gentle Cleopatra, who has ruled the country for many years. Thanks to the films, we know that Cleopatra was a beautiful ruler, but in the story she left a mark as the most cruel emperor. Let's check it in a thematic video slot and win real money!
Gameplay and Prizes
After the game is loaded, the participant will meet 4 deities of Ancient Egypt: Anubis (human guide to the other world); Isis (patroness of children. According to legends, she was the mother of Pharaoh, who became the incarnation of God on earth); Osiris (the judge of the dead and the god of rebirth) and Ra (the god of the sun). These deities played a key role, so the developers decided to portray them on the main screen. The graphic design of the slot machine will take the player to the past, where she / she will see the pyramids, mysterious hieroglyphs and beautiful graphics. It is worth noting high-quality animation. They appear when the prize combo appears on the screen. All elements are conveniently located on the screen. Thus, the logo and portrait of the Pharaohs are located at the top. The central part is designed for the playing field: 5 reels and 20 winning lines.
Cleopatra's Secrets video slot is easy to use. All buttons are located at the bottom, where you only need to place a bet and select the number of prize lines. By pressing Denomination players will bet on the round. The Lines button has special (+/-) knobs that will help you choose the number of active lines. Paytable opens a theoretical section with all the rules and instructions. After that, click Spin or Autoplay to activate the manual / automatic mode.
Features and Bonuses
Thanks to bonus rounds and special characters, gamers are guaranteed to win real money. Free spins are activated when multiple bird images appear on the game board. During free spins, all payouts receive an additional multiplier (from x2 to x20).
In the right corner you will see the "Pyramids Magic" counter. When its score reaches 1000 points, the bonus round is activated. First, you need to choose the Sphinx that guards the treasure. If the answer is correct, then you will proceed to the next round. If the answer is incorrect, then you will return to the base game, where you will make combinations and win real money. Keep track of all the pictograms and get paid in each round.