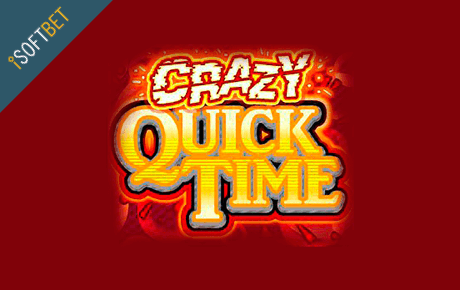 The Crazy Quick Time gambling machine will remind you of good old times when you did not have a chance to play slot machines at home and you needed to go in some institution. Las Vegas was at the top those times. But nowadays everything has changed. Developers from iSoftBet studio tried to dedicate maximum power to their child. That is why this project has such a good atmosphere and only three reels. Is uses the same symbol you have seen in classic games.
Crazy Quick Time – gaming has never been so fun
The gamer can enjoy Crazy Quick Time using a mobile phone or a tablet because of an adaptive user interface. It can deliver an extremely funny experience that no other game can offer. The portable version has no special requirements, that is why you can launch it on any gadget that connects to the internet. To see if this game fits you, it is possible to try it for free using the trial version.
Gameplay and Prizes
To start playing the Crazy Quick Time slot game, the player needs to do a little customization at first. This means you need to change the value of coins you are willing to bet. They all are shown in the bankroll section at the bottom of the screen. Gamers can decrease or increase the amount of money by pushing "Minus" or "Plus" options. The same thing is about lines on which you are going to bet.
For extreme situations, this game has the "Bet Max" function. It gives an opportunity to bet on every single line with a maximum amount of coins. It comes in handy when the player wants to get the biggest prize of in the game. Because the jackpot can be triggered only with max coins at stake.
After all these operations, the player can finally spin the real. However, if he/she is too lazy to do that, the game has a special option for this purpose. "Autospin" is very good for portable gamers. They can play the game in a park, in public transport or at work, doing nothing, but just checking how much they earned.
Crazy Quick Time – hurry up, you need to get rich as fast as you can
Features and Bonuses
Crazy Quick Time is very friendly to those who play gambling for the first time. It even offers some instructions that the gamer needs to follow. To achieve big prizes, combine elements represented on the paying table, then you will be able to increase your winning stats.
By collecting three similar items on the same line, the player can get a couple increasers for two, five and ten times. To get a jackpot prize, you need to combine three symbols on the fifth line in the order that you can see at the top of the screen.