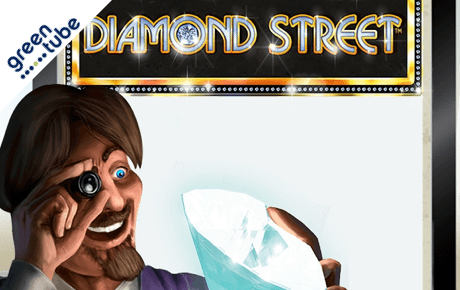 Large beautiful diamonds can drive anyone crazy. Such precious stones have magic that fascinates. Diamonds often appear in thematic video slots that describe luxury and wealth. The GreenTube company allows us to plunge into the virtual world and take part in the adventure. Running "Diamond Street" you will find yourself in the large jewelry store where you will meet a girl with crazy eyes who is ready to buy all the beautiful ornaments. Such a plot guarantees an exciting and dynamic gameplay with bonuses.
Gameplay and Prizes
The developers of the corporation are well aware that each person pays attention to the brilliance of fine diamonds. As a result, the slot machine is successful because the video slot attracted a large number of players. The main screen of the video slot is a showcase of a jewelry store where expensive rings, earrings and necklaces are located. This background completely reveals the chosen theme and complements it. You will meet with the girl and also the seller during the game process. The graphic designers have successfully used 3D graphics as well as the animation that conveys the beauty of diamonds. Each of your purchases will be accompanied by characteristic sound effects that help you tune in to the gameplay.
The game field includes 5 reels that are surrounded by multi-colored cells. These labels correspond to 10 lines that are fixed by default. A large logotype with a diamond is at the top. A set of additional buttons is also located here. So the participant can adjust the volume of the melody as well as the screen size. The main control panel is at the bottom. The customer only needs to make a bet using the "+ and -" controls of the BET button. But you need to visit the tab with theoretical information. It is opened by the PAYTABLE key. The START and AUTOPLAY buttons start the rally. As we can see, the control panel as well as the interface is traditional for the manufacturer. It means that you will not have problems with management. If the player has received all the prizes and the jackpot, he/she can use the EXIT button.
Features and Bonuses
The Wild symbol can form chains separately and is also able to replace other images without additional functions.
The Bonus symbol launches a prize round when three such pictures drop out on the screen. The bonus game will start on the additional screen. You will be transferred to the store where you will see boxes of precious stones. The player needs to select them in the random order. Each of them can hide payments, free spins, multipliers and other prizes. After it, a round of prize spins will begin with additional boxes that can also constitute chains.
The GAMBLE key performs standard functions. It suggests doubling any payment in the risk-game. The client needs to specify the color of the playing card correctly. But be careful as the prize can be lost.