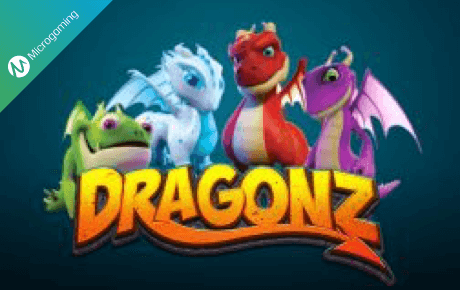 Those who adore dragons will be satisfied now! The "Microgaming" provider performed a slot machine inspirited by them. If you are reading this review while being in Las Vegas or in another town/city, do not worry. Stay there and try the online slot that will make you fall in love with it! The Dragonz Slot wants to invite you into the small fantasy world full of magic, humour and real money!
You will fall in love with the gameplay!
5 dark reels are laying against the foggy background of mountains in the clouds. You will look at the "grid" and be sure that you are sitting now in a large dragon's lair because the upper part of the screen is decorated in a relevant manner. In the middle of the "top" is "DRAGONZ" written with yellow and slowly coming into the orange shades font. The "R"s leg continues further and ends under the "Z" with an arrow-like "tail". "243WAYS" is a yellow 3D text "hanging" against the fog by left and right edges of the game field.
A panel with all necessary buttons for the high-grade slot's game is placed on grey flat stones and nice green grass. In order to place a wager, pass the next steps: make a click on the bet-button and choose the cutest one for you in the small shown dropdown. "Coins size" can be taken from the specially prepared for this value range of "0.010 – 0.050." coins. In addition, you are allowed to settle "coins per a line" with "Coins". "Spin" equals to "Start". An option to automatically spin the reels presents in the Dragonz Slot as well. There are usual, common bright-coloured signs of cards from "Nine" to "Ace". But also you will see very often the marvellous portraits of the dragon characters: a red angry looking with white horns and belly is Lavarius; a violet sly looking with large eyes and more thinner horns is Offelian; a light-azure modest and very beautiful female dragon is Lazuri and a light-green very fat and crazy looking is Gromell.
The "scratchy" bonus rounds
Always well recognizable from afar 3+ "Wild" triggers a "Wild Deal". Have you got 3+ amazing silver-ice magic rune with a purple "alive" centre? Then the Dragonz Slot's marvellous "Free Spins" will be allowed for you! Four dragons and their gifts already waiting for you. In any of 4 meetings, you will get first of all 10 free spins. The red Lavarius will offer you the "Flaming Wilds" and will "fire" extra "wilds" on to the reels. The violet Offelian offers the "Stashed Wilds". All not used "wilds" will be collected until the moment when you have 3. Then they will be added on the reels for guaranteed winnings. The light-bluish Lazuri is going to offer her "Frosty Wilds" with "freezing" not used symbols. The green Gromell can offer "Winning Wilds" and will fire the random "wilds" down the reels if they are frozen because of not using. (A useful note: on the 13-th time of triggering this feature, you will choose a preferred "scratchy" option of the gambling's "Free Spins".)