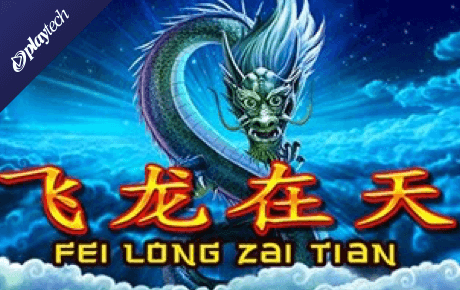 If you follow modern gambling trends, then you notice how the popularity of Chinese slots is increasing. Almost all studios and manufacturers have similar slots in their portfolios. Of course, the advantage and popularity of such slots are obvious. China is an amazing country with a unique culture and traditions. If you do not follow the new games and releases, but want to test them, then select the content from Playtech. This provider always knows what gaming gamers like.
Gameplay and Prizes
It's no secret that dragons have a key role in Chinese culture. These amazing creatures are powerful and dangerous, especially if you want to take away their treasure. Fei Long Zai Tian Video Slot is a new version of the popular Dragon legend that lives in the mountains with its girlfriend.
So, the gameplay takes place in heaven. Here you will make combinations and win real money. All images fully reflect the ideas of developers. The national color of China is displayed in the relevant pictures (koi/bamboo/yin-yang, and so on). The interior, clothing and various attributes of the Chinese contain two primary colors: gold and red. It is these colors that dominate this slot machine. So, you will see a red playing field with a gold frame. mysterious hieroglyphs and logo slots are located at the top. 5 reels are surrounded by special indicators that represent 25 paylines. Fei Long Zai Tian will surprise gamers with fantastic animations and beautiful 3D characters that complement the mobile experience.
Spins will start after you visit the paytable and place a bet. First, click Info and view information about the symbols and bonus rounds. Return to the main screen with the control panel. At this stage, you need to select the number of paylines (Lines option) and make an option (Line Bet key). These buttons have additional controls (+/-) that allow you to increase performance gradually. If you love risk, then use the Max Bet option. Spin; Autoplay and Turbo Mode start the rotation.
Features and Bonuses
The joker is the most valuable symbol. It not only forms individual combinations, but also replaces standard pictures when it appears in a suitable cell. After that, the player receives a double payout. Wild appears in stripes, so it takes up the entire reel.
Scatter does not depend on the location on the screen and the active bands. Two such elements give payout; three scatters give bonus spins. First, the player will get 8 free spins with doubled odds. After that, he / she needs to choose a pearl that will give additional spins (up to 33) or multipliers (up to x15). Thanks to these bonus options, your bankroll will increase by 10,000 coins.