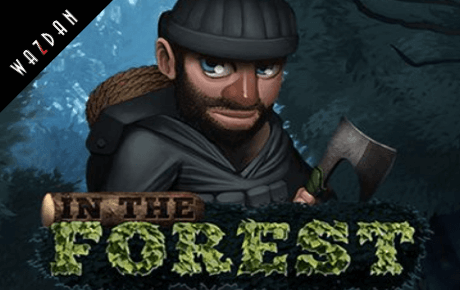 What can happen in the forest, really? You are one-on-one with nature, and totally sure that everything is good. You know well the woods, you have been there quite often. Yet, there is always a chance that something might go bad.
In the Forest – Stay Alive, Be Great
Indeed, for the sake of surviving in the wild nature, what you really need is luck. You may be well-equipped, and even familiar with all the trees around, and still, if you are an unfortunate soul, there always may be a danger up there, in the darkness. No wonder that the Wazdan slots development studio who are well-known for their great atmosphere, soundtracks and design decided to make a thematic horror slot about a lonely man that tries to survive in the dark woods alone. The symbols in the slot represent his possessions: a bunch of bullets, a rifle, a bike, a trap, a compass, a mobile phone and an axe. Everything here sounds like something handy, yet, will it really help you to find your way out? Thus, prepare your bets and have a look at what had happened here while the journey in the darkness of the night.
In the Forest Gameplay and Prizes
As for core gameplay, here everything is simple. From the start, players see a dark net of 5 reels divided into 3 rows, and a blackened landscape on the background. There are only 10 paylines to help you out, thus, your chances are not as high as they could be, which adds some feelings of a truly risky adventure. The amount of the bet you can place is varied from 0.10 to 100 per each spin, as well as the jackpot chance depends on it.
Aside from that, the slot itself offers you an opportunity to switch the playthrough to the maximum bet from the start. Along with that, you can switch the gameplay to the automatic mode and just watch the adventure revealed right before your eyes.
In the Forest Features and Bonuses
As for special features, Wazdan did their best. All the elements required for engaging and captivating playthroughs are at their places. To begin with, there is a traditional wild symbol depicted as a man with an axe that shows you the way. The icon should be combined with other symbols on the board. Furthermore, there is an additional bonus in case you have filled the whole board with one and the only symbol among all (no matter what that symbol is). As for a bonus game, it gives players an opportunity to search for bushes that will provide you either with payouts or with losings, depending on how big your chances are and your luck is. Aside from that, there is a scatter symbol, the map. If you collect enough of them, they serve as a score multiplier for you, leading you to big payouts in result. Needless to say, the slot also offers a 50000-credit jackpot, if you are brave enough to claim it.