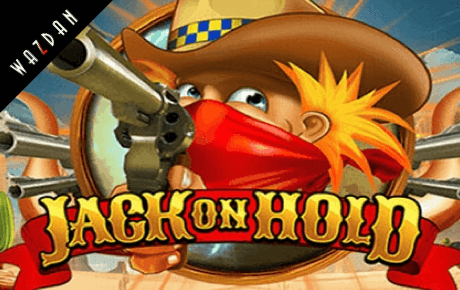 Western romantic is often related to gambling topics, and it is no wonder. In fact, gambling business was very popular among cowboys, bad guys and average saloon visitors who sought just a mug of beer and relaxation. To play some cards, spin the roulette and show yourself as a tough guy – that is a real fun for those who lived back there, and why not to depict such an image nowadays in a manner of a slot machine.
Jack on Hold – Shoot 'Em Up, Be the Star
Even more, there is no need to draw 3D cutscenes or make anything additional than recognizable wooden design and the country banjo music soundtrack in the background: everyone will recognize the topic even from the first look, and that is totally good. The sound of spinning reels, gunshots, and a merry string tune on the back – everything here is done for the sake of love for those old good days.
Jack on Hold Gameplay and Prizes
From the start, all the classic elements of the gameplay are there. The slot itself has 3 reels of 3 rows to play around, and 5 paylines to make combos from. The bet you can place here varies from 0.01 point to 1000 credits depending on the currency you are using. Along with that, Jack on Hold offers all the parts of an engaging playthrough. There are wild symbols, two different bonuses, and even a jackpot for those who are ready to risk. On top of that, Jack on Hold offers gamblers an option to go ahead with a maximum bet from the very beginning of the play, and, if you just want to relax, the autoplay option that allows to just watch the reels spinning, while the player enjoys the day.
Jack on Hold Features and Bonuses
If talking about special features, there is a classic set Wazdan offers in their games. From the start, players have a merry cowboy with a gun as a wild symbol of the slot. Along with that, each time you collect it, it stays on reels along with symbols combined with it, while the whole machine goes up with the next spin in order to make another successful combination, which means each wild symbol is also an additional re-spin for you.
The second point is an option to fill the board with one unique symbol that multiplies your score significantly from such a combination. The bonus game here is a game of cards. You bet on black or red, and watch the results. They may be good for you, or fail some winning scores, which means it is always required to be careful with them. As for the last point, Jack on Hold also offers a 50,000-credit jackpot, if you were lucky enough to claim it.