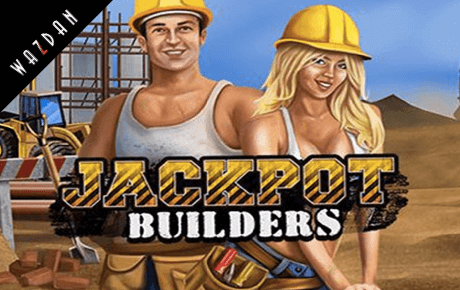 Building site is a symbol of movement, a hope for a bright new life, for creation. No wonder that such a symbol might be also an inspiration for luck, for some wealth and fortune. Thus, it is easy to imagine such a topic as a theme for another online arcade slot machine, and the Wazdan slots development team caught the same thought.
Jackpot Builders – Build Your Life, Be Wealthy and Healthy
As a result, now every gambler all over the world has an opportunity to literally build his or her own happiness from the ground to a massive skyscraper, filled with wealth and riches. Now Jackpot Builders is available in our online casino, thus, prepare your bets and start spinning. Designed in a manner of a 3D-cartoon with three characters building a house, you are offered to help them in their quest. Powered with a thematic soundtrack, the slot allows you to feel right things and enjoy the whole process.
Jackpot Builders Gameplay and Prizes
As for the gameplay itself, everything here follows classic standards. To begin with, there is a semi-transparent scheme of 4 reels with 3 rows to play around. On this screen, you have an opportunity to make combos on 9 various paylines, and a wild symbol comes here to help you with the task. Along with that, the game itself allows a plenty of opportunities to make your total payout much bigger than you expected. The minimum possible bet is limited to 0.01 while the maximum can be raised up to 100 credits within any currency that the casino uses. On top of that, Jackpot Builders is created for mobile users in the first place, which means it can be also run on Android and iOS devices instead of PCs or laptops, as most slots usually tend to be. Needless to say, the game also offers gamblers a truly big jackpot, which even comes within its title. And, aside from that, you can do everything automatically, by switching the game to the autoplay mode. Relax, watch the reels and collect the results.
Jackpot Builders Features and Bonuses
As for specials, the first thing to tell about is free spins. It is not only a jackpot game. First of all, you are offered to use the free play with real wins on the way. If you are lucky enough, you can collect up to 30 free spins from one playthrough. The second point is a traditional wild symbol that helps you to collect really big combos from the board. The third point is a mystery bonus that provides score multiplier in result. Aside from that, there is the wall of symbols option, and the gambling mode that offers you to choose among win or fail options, which influences your payouts drastically. And, of course, there is a 500000-credit jackpot for those who are ready to try it out.