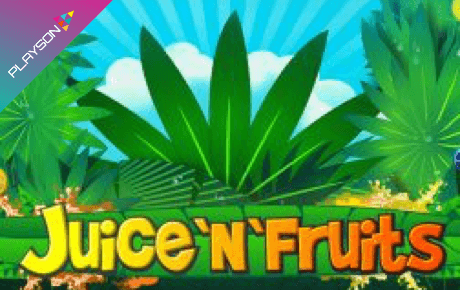 Juice'N'Fruits was created by the power of Playson Studio. They tried to deliver a cool project about vacation. The player has everything it takes to change this world for good. And you will do that with the use of fruits! The gamer arrives to the island full of different types of plants and with the perfect weather. Designers did an amazing job by drawing every aspect of the reel to make it as bright and colourful, as it is possible. However, you do not have to be scared about visual representation, as the project was created with optimization for touch screens and mobile devices. It means the player can launch it not only on a big budget computer, but also on any other gadget, which can connect to the internet. It is a great chance to play, even for those gamers who have never seen such projects before. Besides, the gamer does not have to pay anything to enjoy the project. This game includes a demo version with in-game currency, which the player can use to not risk with real money.
Gameplay and Prizes
Juice'N'Fruits online starts like a normal project. The player should customize different aspect of the gameplay, if he/she wants to win big prizes. To do that, he/she can use a special panel right down to the gaming field. Click on the "Lines" section to choose a correct line, which you are going to play on. The gamer can also change the amount of money to put at stake. These operations are going to be enough for the player to spin the reel. However, you can go further and use some other functions, such like "Autoplay".
Activate it and the gameplay will become much easier to operate. The game itself will bet automatically for a specified number of times. This function was added for portable gamers who want to play with comfort on a road trip or anywhere else. Besides, the player has a chance to go all-in. To do that, use the "Max Bet" function. But be careful because it is dangerous. The player can win big prizes, or lose everything at one moment.
Juice'N'Fruits – sweet dreams from the beach Features and Bonuses
It is pretty easy to get bonuses in this game. The user should collect matching slots. There are different combinations of items, which the player can use to increase the winning score. You can double it by landing at least three items on the line. However, it is better to keep an eye on special items, such like scatters, because they can make much more. Especially if talk about mini-games. Only using these bonuses and maximum betting, the player has a chance to win the jackpot prize.