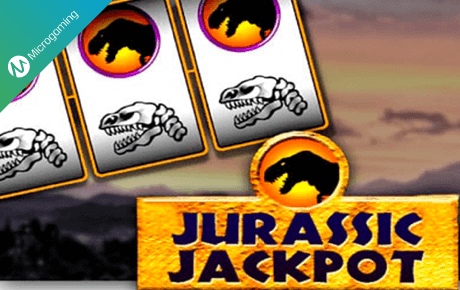 The modern world is beautiful and mysterious. We have everything for a comfortable life, but scientists, archaeologists and specialists from other fields do not want to stop. They are trying to revive dinosaurs who have been masters on our planet for thousands of years. This theme is very popular, especially when directors and companies produce thematic films. Not so long ago, dinosaurs appeared in virtual gambling where they became a key figure. In 2012, Microgaming released an interesting game called "Jurassic Jackpot." We know that Microgaming is the leader of which produces modern and original models with different bonuses and stunning graphics. But this time, the company decided to play the game in a "classic" style with 3 reels and 1 payline.
Gameplay and Prizes
The development team proved that it does not matter how many reels and lines the gaming machine has. Only theme and its embodiment can attract players. At first glance, the Jurassic Jackpot is a traditional video slot without surprises and gifts. But your opinion will change as soon as the playing field appears. The screen will fill with orange and you will see the real Jurassic Park. Yes, this is exactly the park that appeared in the thematic film and became a legend. If you watched this movie, then you know that this park is inhabited by huge dinosaurs. If this does not scare you, then continue to play. The game field is located above the slot machine logo. Here thematic pictures (dinosaurs, plants, and so on) make combinations and give payouts. All winnings are calculated according to the standard rules described in the Paytable section. Players will see this key on the left side. In Paytable, developers have added all the rules and factors that allow you to play without stopping.
As usual, the main buttons are located below. You can increase your bet gradually using the Bet One button or make the largest deposit using Bet Max. Click Spin to make a single spin. The volume of the music is adjusted by the corresponding key.
Features and Bonuses
T-Rex was the strongest dinosaur. Thanks to the huge paws and powerful tail, it could kill any creature. Therefore, it plays a key role during spins. If the last spin was successful, then the dinosaur will turn its head and make a loud roar. Many gamers admitted that they did not expect such a surprise from the manufacturer. But at the same time, this idea caused a positive user reaction.
We are sad to admit it, but Jurassic Jackpot has no bonus rounds / symbols. Combinations are made up of identical pictures and this happens in almost every round. In addition, you can win 1,600 coins!
Do not rush to make deposits and risk real money. On our site, all gamers can play in a free demo mode (without registration).