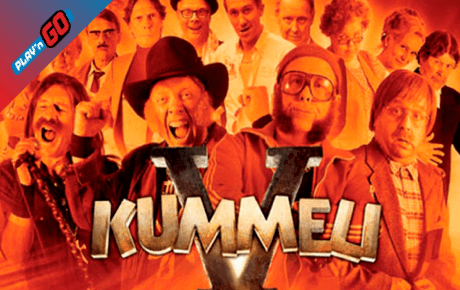 Kummeli is a classic slot machine by Play'N Go. This game is dedicated to an old Finnish comedy show of the same name that was very popular in the 90s. Like other similar games by this casino software developer, it has 20 paylines and 5 reels. The rules are very simple and are known to anyone who enjoys fast and exciting world of gambling.
How to play Kummeli
No matter if you have been to Las Vegas or not, you will easily learn how to play slot games online. While the principles are very similar to those of traditional ground-based casino, there are certain differences here. First of all, you do not actually need to pull the levers to start the game. Instead, you will have to click different buttons. The good news is that there are not too many buttons in web browser games that require no download.
The only buttons in this game let you adjust your bet and start the game. You do not need to do anything else. Once you have placed your bet, you can just sit and relax. Everything else is done for you. Only when bonus rounds become active, you have to make choices and pick cards.
Bonus games and free rounds in Kummeli
Like many other online slot games, this one has different pictures. The biggest paying one here is the image of the Beard Man who is also the Wild. If you have never played slots before, you should know that the wild can take place of another symbol that might be missing in a winning sequence. Finally, it increases your winnings, multiply it by a certain number set by the developer. The only restriction here is that it cannot stand for other bonus symbols. Another thing to learn that almost in any slot game there is a scatter symbol that can appear at any place and bring a reward. The size of it can be seen in the paytable. Aside from that, it also starts the free spins. You will need three Group Photos to activate this feature. But if other photos appear again, they will re-activate the said bonus again and again. Another way to win real money in Kummeli is to enter a bonus Pick-me game. The rules suggest that you need to scratch the correct cards to win it. You can play it as long as you wish or until you make a wrong choice. Then the normal mode of the game will resume.
Where to play Kummeli
Kummeli is a web-browser game and you can play it on our website at any time. We ask for no registration if you prefer to gamble for free. We also partner with many online casinos that offer a possibility to enjoy pay-to-play option where you can win real money. It is generally advised to first try online games for free. It allows you to learn the rules and everything you need to know about RNG (random number generator) and how it works. Free games also let you understand whether you like the RTP rating of the game. This rating shows how big or small your chances to actually win while playing such games online. Whether you are new to the world of online gambling or not, you can start with playing some free games here and if you really like it and enjoy it, you can later try playing for money. We put no limitations on how many games can be played, so you can play as many as you wish.