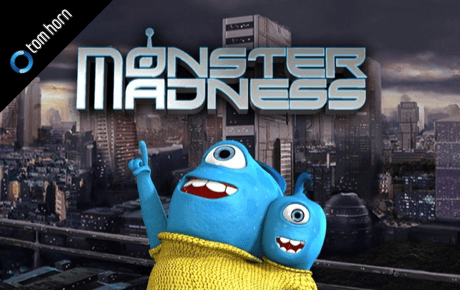 Dark, futuristic city, smoky metropolis with high buildings, which are hidden behind grey clouds hanging over them. Everything is so still and cold. But look who is here! Is it Monsters incorporation? No, it's much better, than cartoons for kids. It is Monster Madness slot game, created by Tom Horn Gaming. These varicoloured, funny and kind aliens came from space to this dark city to make it more colourful and lively, as well as give a player a chance to earn a fortune. Developers did a good work using modern graphics and futuristic theme. Also it should be noticed that there is musical accompaniment in Monster Madness slot game. While spinning rock music is playing; it makes a player more confident and, of course, function as an entertainment.
On a city background we can see 3×3 reels (not five as usual) and 8 winlines. Slot machine developers used pictures with monsters of different colours and number of eyes, Scatter and Scatter Wild symbols in a form of target, quirky symbol (green eye) and free spins as well. Begin to play Monster Madness and see how quickly this friendly monsters catch up you in the gambling.
Gameplay and Prizes
Now let's say a few words about gameplay. There are 8 active win lines and only 3 reels, that is rather unusual for slot machines. To begin gambling you can use spin button, Autoplay or Bet Max. If you have no time for concentration on the game, just click Autoplay. When you are free, stop this function and play fully. Using Bet Max a player involves all win lines and maximum bets. There are also +/- buttons to increase/decrease bets, icons that show number of lines, total bets, credits and win sum. If you still have some questions about gameplay use "Menu" button.
Special symbols are also here: Scatter, Wild and quirky one. Scatter looks like a circle, so three or more of these symbols give you from 5 to 11 free spins, every additional – one extra spin. Wild symbol appears like a blue target; hit three of it and get 60x bets or receive free spin as well. You can see quirky symbol, which looks like green eye, if you hit three matching icons or more. It gives you a chance for free spins too. Pay attention on the monster's colour: depending on it you can win more.
Monster Madness – colourful craziness
Features and Bonuses
This online slot can propose you a lot of free spins: from 5 to 11 and extra ones if we speak about Scatter symbols. You can feel whole field with green eye symbol to win a huge bet. Besides there're Wild symbols, which can double your prize or give you free spins.