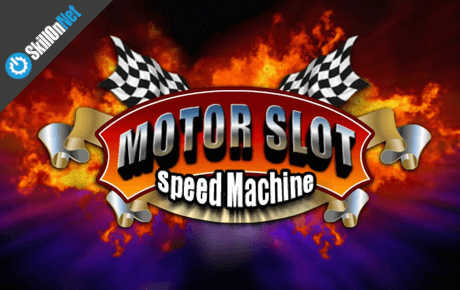 There are many people who have a passion for high-speed riding and motorcycles. This is a unique transport that gives real adrenaline and even fear. Skillonnet company rarely releases, but each game of this provider meets all requirements. Motor Slot Speed ​​Machine is a unique video slot that has no analogues. The developers have designed it in the form of a motorcycle and if you are a fan of this transport, then this is what you need. Only here bright and expressive graphics combined with convenient gameplay and various bonuses.
Gameplay and Prizes
To display the theme and plot of the slot machine, the development team spent a lot of time on graphic design. The playing field (5 reels/20 paylines) is located on the background of a large and fast motorcycle. During the spins, the vehicle moves and gives excellent payouts. But this is not the only surprise. From time to time the turbines will release flames and smoke to create a realistic game atmosphere. As you already understood, the characters are made in accordance with the main theme too.
The background is presented in the form of a megalopolis so you enjoy a quick ride through the night megalopolis. Animations and dynamic sound effects made the Motor Slot Speed ​​Machine unique. You will not find such video slots. Here, all elements are qualitatively depicted in accordance with the main plot. All characters are beautiful and attractive. At the top you will also see a large speedometer that launches the bonus round, but we will look at this aspect later.
First, the player needs to learn the control panel. If you want to play without troubles and stops, then open the Paytable section with all the theoretical information. After that, gamers need to make a bet. This is an important indicator that affects the amount of payments during the spins. Playing at the highest rate the participant will win the main jackpot – 100,000 credits! Thanks to the additional windows you can keep track of your balance and wins.
Features and Bonuses
We promised to tell the speedometer what runs the bonus round. First, you need to collect 1000 points and open a special window. Here 3 riders are depicted and each of them wants to win. You need to choose one participant and hope that he/she reaches the finish line first. In the end, a player's bankroll may increase by 100,000 credits.
Scatters often appear on the playing field. When three such images appear on the screen, you will receive 20 free spins during which the online casino makes bets. Thanks to these bonus options, payouts are calculated in each round and your game session will not be boring. To see this, we recommend play Motor Slot Speed ​​Machine in a free demo mode on our platform. Users do not need to spend time registering.