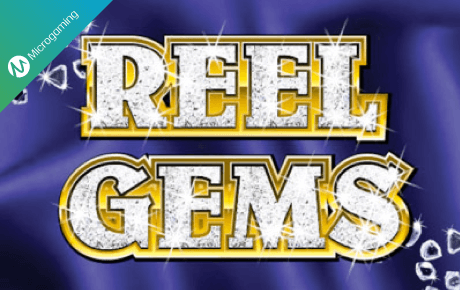 As we remember, excited players of gambling, not so long time ago, could only play their favourite games offline, in Las Vegas. However, this time has been gone! In our 21-st century, we shouldn`t worry about our place and geolocation as well. Because of enjoying online casinos we just need to have a computer and internet connection.
For making your chances grow up, learn about Gameplay and Prizes
It was claimed by a legendary blonde, Marilyn Monroe, that diamonds (and generally, precious stones) are girls' best friends. The Microgaming software producers have dared to change this proposition somewhat, creating a really shiny 5-reel and 243 paylines video slot not only for women but also for men, who are interested in gambling and want to win real money. Reel Gems has indeed luxury symbols: a blue square topaz, a yellow oval sapphire, a red triangular ruby, and a green lozenge emerald.
Moreover, this slot machine includes purple '9', light-blue '10' and a high value of playing cards (scarlet 'A' with a small ruby on its middle, sunshine 'K' with a handsome crown at the beginning of the letter, golden 'Q' with more elegant and beautiful crown on its 'tail', and green 'J' with a cup-shaped shield, divided into four parts). The background is also very fashionable – a noble blue-coloured silk. The music that supports Reel Gems is soft and pleasing. We`ve said enough about visual effects. Now, let's talk about a technical side of the slot. Before starting the game in a selected mode, you need to set a wager. In the bottom of the screen, you will see purple control panel buttons and text fields over them. In order to choose the coin denominations, press '+' and '-', which are under the 'Coins' button (the allowed range is 1-10). The 'Bet Max' button sets the maximum wager. After, you will get an access to the 'Auto Play' option. If you want to re-spin the symbols, click the 'RESPIN' button under the line.
A little bit about Features and Bonus rounds
The 1-st of 2 wild symbols in Reel Gems is a nice logo looking like a text containing two words: 'REEL GEMS', which are placed one under the another. They substitute all symbols, except Scatters. The second one is a symbol containing a text 'FREE SPINS', which is written with a white font in the centre of the charming 'Diamond ring'. (Keep in mind: the first one appears only on the 2-d and the 4-th reels. It doesn`t create a kind of combination that can win.) By your left hand, a bit more to the right of the 'VIEW PAYS' panel, in the centre of a diamond ring shape, you will be able to see Scatters. After you get 3 or more of them on the reels, the 'Free Spins' bonus round is going to be started. About all the capabilities and directly the rules of the game, you can learn during playing. (Notice: for getting an extra information about 'importance' of any symbol or a button, just hover over it.)