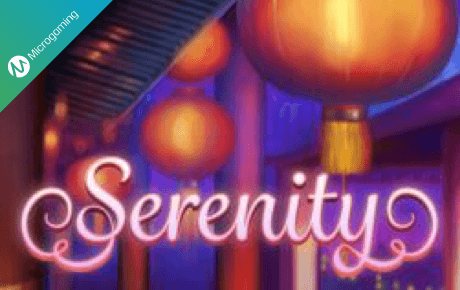 The 1-st poker gambling machine was created by Sittman and Pitt in the 1887 year. The slot with an automatic payout – four years later by Charles August Fey. In the 1907 year, Herbert Mills performed the fruit machine with a BAR symbol. In the 1964 year, absolutely electromechanical machine (Money Honey) was created. Only in the 1976 year, the first video slot was performed by Fortune Coin. It was possible to play it only in the Hilton Hotel in Las Vegas. It is great that now, when almost all people have the access to the Internet, you may try this lovely like a gentle wind of summer slot machine anywhere. Do not boil up your mind with registration and download. Just read next paragraphs about this online slot.
What the gameplay promises
5 reels are just set on the wonderful picture of adorable sundown near a bridge, under which is a river flows. We do not have enough words to describe how beautiful the background is. Better, you will load the Serenity Slot and look at it by yourself. Press on the deep-violet (by sides it is black coloured) Bet button and, using the drop-down menu, set 3 parameters: the Coins Size, Lines (a default number is 15) and Coins per a line. Spin, Max Bet and Autoplay, as in other video slot games, offer here the same functionality. All symbols are China-themed: the red "A" with a green small panel has also a very small red canopy; in the beginning of the orange "K" there is a pretty golden dragon; near the tail of the yellow "Q" is a red fan with a golden hieroglyph; on the red thread near the upper left edge of the green, "J" is hanging two big and one a bit smaller coin with quadratic holes; the blue coloured "10" and the violet coloured 9 are decorated with nothing. Also, there are three very beautiful lanterns: a ruby with a yellow ornament like a rising sun; and the most wonderful Serenity Slot's symbol is a pumpkin-shaped violet lantern with white roses. The Chinese lantern is a flying luminous construction that is made of paper stretched over a light wooden frame. It operates on the principle of a montgolfiere (A balloon with a shell filled with hot air created by brothers Montgolfier – Joseph-Michel and Jacques-Etienne.) and is popular in the eastern countries.
Bonus rounds smell with the wind of Oriental in the Serenity Slot
The symbol which is luxuriously decorated with golden flowers and has a WILD text made of pure gold in its violet centre can substitute usual icons. You can visit the Lantern Bonus round. How? Put on the reels 3+ symbols that look like light-coralline Lantern and under it is golden large BONUS. Have more such icons in order to have a chance play this cute feature one more time. (A notice: The Serenity Slot's Lantern Bonus can be played with the help of Free Spins that you trigger by putting 3+ icons decorated with gold and one oval ruby.)