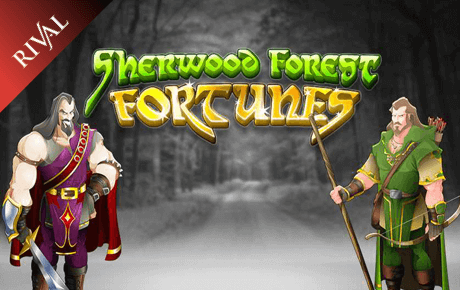 Sherwood Forest Fortunes casino is a game, developed by Rival Studio, which represents a story about English hero. You know the tale about a grown man, who dedicated his life to still gold from rich people, so he could give it to the poor ones. The whole game is made out of easter eggs, that remind you, that this is a project about the famous story, that everybody should know. And you will see, that it has a lot more to offer. Storytelling is great, but there are a lot of interesting characters, perfect visual representation, colorful graphics.
Sherwood Forest Fortunes – you know that story
Sherwood Forest Fortunes online can be played not only on personal computers, but also on any other device you have. Creators of the game, adapted it to any screen size. Same thing about controls. You can easily play on a touchscreen gadgets and still have a high-level experience, just like in the case of all other games.
To play the game, a player doesn't have to pay something. Creators added free trial version, which you can enjoy without registration. It contains everything you would like to have out of this game. But you can't get money this way. To earn coins, sign up on developer's website. Then you will have a chance to sign in on any device you have.
Gameplay and Prizes
Gamers should understand, that they can't become a hero, without little customization to their profile. So, the first thing you need to do – look right down to the gaming reel. You can find a lot of interesting options to use.
To increase or decrease the amount of money you have on your bankroll, use "Select Coins" option. It helps you to manage how many coins are you willing to put at stake. Then, you can also change the line with which you are going to work with "Select Lines" function. Now, you already can start playing by spinning the reel. However, you can also use some other options, like "Bet Max" to maximize the amount of money to bet. Or use "Autoplay" to have a chance on simplifying gaming process. After activating this function, the game itself will make bets for you. It comes extremely helpful in situations, when you can't get one hundred percent focus on the game, but still want to make money. With automatic betting, you will have a chance to win big, without doing anything. Just don't forget to check your stats from time to time.
Sherwood Forest Fortunes – your own chance to become rich
Features and Bonuses
Just like a Robin Hood, this game will give you money, if you will need them. But you need to understand, that to get them collect matching lots, just like in any other game. For example, you can combine at least three Marion's on the same line and that will give you five free spins. If you will activate that bonus, then you will increase your winning score a couple of times. You can also trigger a jackpot with over ten thousand coins! To get them, combine five pictures of the sheriff and you will automatically get the maximum winning score of this game.