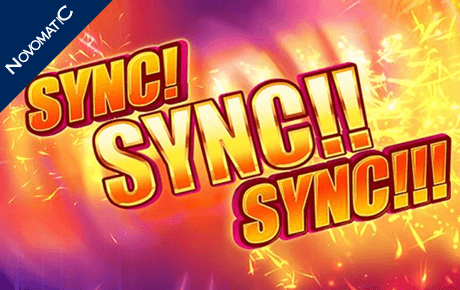 How can magic be mixed with fruit themes in a video slot game? With Novomatic bright slot games, it can. The background of the slot is made in bright pink, yellow and purple colors. 3D animation, bright visual effects and high-quality graphics in the machine will attract the attention of players for sure. Because of the unpredictable plot, the game will always be interesting to play. Light sound effects in the background can make you believe that all the fruits on the interface are real!
Gameplay and Payouts
Entering this bright video slot machine, players will be able to see a traditional interface with five reels and three rows in height only. In total, they form a grid of 15 spaces on the screen. All the spaces are covered with winning combinations in "Sync! Sync!! Sync!!!". Players will be shocked with a great amount of available paylines, as Novomatic Software offers 243 ways to win!
The number of winning combinations usually determines the amount of money you will waste during the game and defines the player`s chances to win the game. 243 paylines is a great amount of combinations that is ten times more than in other video slot machines on the modern gambling market. Lines are not fixed and their amount of can be manually changed. To do that, simply press "plus" and "minus" buttons that can be found on the bottom of the interface. Choose only those lines that you consider being profitable ones. To check out a certain placement of combinations on the interface, press the "Payline" button. A minimum bet in the game is one cent per line only. You may regulate a bet, pressing "plus" and "minus" buttons in the game as well. Turn on the Autoplay option and gamble without pressing the "Start" button before the very beginning of every new session.
Features and Bonuses
Linked reels, wild symbols and an option to substitute presented playing cards with more profitable ones – this is the list of options that will make gambling with Sync! Sync!! Sync!!! not only interesting, but also really profitable! Wild symbols in this bright video slot game can be met only on the second and the fifth reels. Considering that all playing cards in the game offer 3D animations, these bonus symbols will look extra bright and it will be easy to notice them. So wilds can replace all symbols with no exception in the video slot machine. They simply introduce more profitable cards instead of usual ones, and it makes chances of the player to get a higher reward. Moreover, wild playing icons also can replace all ordinary symbols with those that you need to get a winning combination formed. The gamble option in the game will trigger linked reels and spinning one, you will get others fulfilled with bonus cards! Earn a lot of cash with no odd moves! Gambling with Sync! Sync!! Sync!!!, you can also turn on automatic substitution of symbols on the interface. Get winning combinations completed one by one and keep on earning real money!