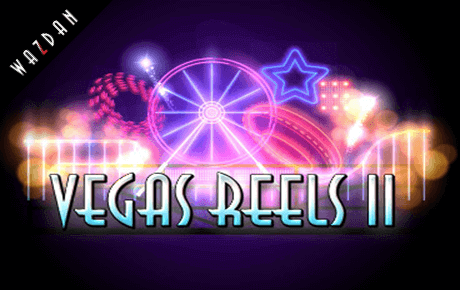 This city in Nevada has become a real symbol of gambling. It was in Vegas that the first gaming halls appeared and created the first millionaires among the players. Despite the rapid development of virtual gambling, Las Vegas casinos are still popular because they give players vivid memories and dollars. If you want to visit this city and make bet in the most luxurious casino, then read this review and launch Vegas Reel II online slot that will make you the happiest player in this world. Vegas Reel II is a real Las Vegas in the virtual world.
Gameplay and Prizes
It is not possible to ignore the logo of this project. It shows bright neon lights that personify the city of sin. Looking at this logo, players will think that the visual presentation of the slot is just as spectacular and bright. Unfortunately, this is a false proposition, because Vegas Reel II has a strict classical design. Wazdan decided not to use modern animations or at least 3D graphics which turns video slots into masterpieces. This gaming model only offers 3 reels with one payline. Maybe the developers wanted to recreate the atmosphere of a real casino. If so, they did an excellent job with this task. The playing field located on a metallic background offers a classic character set that includes a watermelon / lemon / 7 / crown and so on. Their coefficients as well as general rules are described in detail in the theoretical section that opens with the corresponding key. Both functional buttons on the screen (Bet in coins / Coin Value) regulate only the size of the bet per round. This indicator is very important because it determines the amount of future payments. If the player does not know what bet size to choose, then Max Bet will solve this problem. This option makes the largest bet and spins.
The game takes place in manual or automatic mode and each of them is activated by the corresponding key. If you want to control all aspects of the gameplay, then press the round key after each round.
Features and Bonuses
Classic slot machines in real casinos do not offer bonuses to players. But we play online casinos so Vegas Reel II has several features. So, it contains the "jackpot" symbol which increases the counter after each its appearance on the playing field. The bonus round is activated when this counter shows 10 points. In the following rotations, each payout will be increased 3 times!
This means that each round will increase your bankroll again and again.
Vegas Reel II does not offer other options. Using all available symbols as well as these bonuses you are guaranteed to win real money. In some rounds the payouts will reach 1,000 credits!