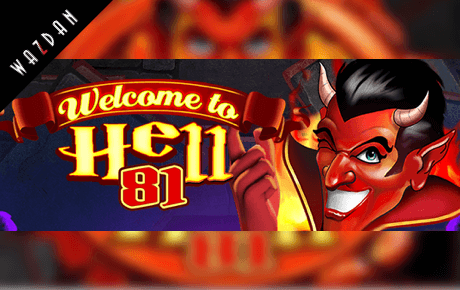 Each of us commits sins and this happens almost every day. Despite what we know about the punishment for sins, we still commit them and hope that they will be forgiven after our death. Welcome To Hell 81 video slot will show what can happen if a person has made too many mistakes and did not have time to correct them to death. As you already understood, this game will move you to hell where you will pay for all your sins. Such an unusual story was proposed by Wazdan studio which has an excellent reputation in the gambling market.
Gameplay and Prizes
In the modern world, not every one of us believes in the existence of Heaven or Hell, but at the same time everyone hopes to find peace after death and to avoid punishments. If you want to know if life of death exists, then select Welcome To Hell 81. Obviously, the slot machine is filled with hellish flames that come out of all interface elements. You will have no doubt that you are in hell, but in this case, you can win real money if you are not afraid of becoming a victim of Lucifer.
Designers and programmers have responsibly approached the visual design of the game. First, we would like to point out the unusual structure of the playing field. Hellish characters and combinations are formed on 4 reels with 81 winning lines. All icons fully display the underworld. Here you will see terrible characters, a portrait of the devil and other elements that will make the gameplay creepy and at the same time interesting. Probably the gaming machine would not be so attractive if the developers did not use 3D graphics. Get ready to see the fiery animations that blend with a fun melody.
The process of the game is exciting and the player will have no problems with control. All you need is to choose the size of the bet by pressing the Coin Value button. These changes are broadcast in the Total Bet window. The biggest button is the single rotations that will turn into automatic if the participant clicks AutoPlay. So, we can conclude that Welcome To Hell 81 is a beautiful and convenient online slot with a unique storyline.
Features and Bonuses
In the theoretical section you will find all the necessary information about the symbols. So, Lucifer performs the functions of the Joker, so it can replace any image in a certain situation. As a result, it increases the number of prize chains. In addition, this symbol provides additional payouts with high odds.
In fact, Welcome To Hell 81 online slot offers great payouts. If you have made the biggest bet before spinning, then you can win up to 200,000 coins.
Before you make a deposit, you need to learn the features of the game. On our gambling resource you will find all the popular game models including Welcome To Hell 81 which are available in demo mode.