EUcasino Overview
Official Website:
www.eucasino.com
Owner:
SkillOnNet Ltd
Established:
2009
License:

Skill On Net Limited 39326
EUcasino MGA
EUcasino is one of those online gambling houses that are increasingly pushing the UK market these days. Still, the dissensions on Brexit have resulted in the distrust smouldering in some of us. That's reason enough to investigate the most prominent features of this particular établissement (portfolio, withdrawals, and whatnot). May make no difference to the result of the contest? Let's see.

Since 2009 in existence, EUcasino is owned by SkillOnNet Ltd. As the name suggests, the EUcasino operates in the EU arena. Their strategy is to offer a very high bonus value for newbies. As a result, the still relatively new EUcasino has managed to attract new customers in Europe very soon. Would it work in the UK too?

With the Maltese license on hand, SkillOnNet is likely to set the bar high. This implies the quality of games, the withdrawal options, and the likes. That's what this article is dealing with.
EUcasino Software and Slots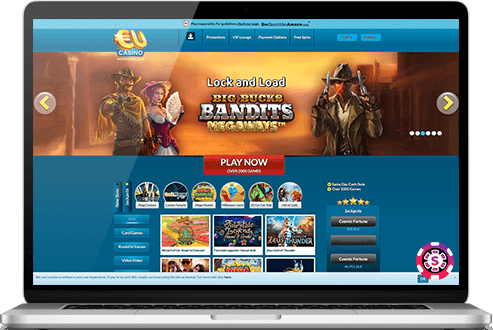 The EUcasino games offer one of the points with which its attractiveness can stand and fall. The selection of games here is made for gamers in any case.
EUcasino runs software made by SkillOnNet. The demo mode is intended for use by those who want to play EUcasino without having to bet a penny. SkillOnNet soft is a high-grade delivery playable as mobile, download or instant play version.

There are some 600 items in the game portfolio with the slot machines dominating the entire collection.
In general, there is an overwhelming collection of slots games over there. On the contrary, roulette and card games are offered on a small scale. Arcade games and scratch cards are non-available at all.
However, there is a live casino, which convinces its superior quality. Thus one can enter a genuine casino whenever the need be. The EUcasino expands its portfolio constantly, that's why games made by Play'n GO were added as of late. Amaya, Edict (Merkur Gaming), EGT Interactive, IGT (WagerWorks), Microgaming, NetEnt, NextGen Gaming – these providers also raise the EUcasino bar above the average. This list may be continued endlessly: Jimi Hendrix, Guns & Roses, Good & Evil, Mega Joker and Cosmic Fortune – go for it to hit the jackpot!
Other EUcasino Games
Likewise, gambling club games dare not miss. What else would generate a bona fide betting evening – regardless of whether on the web or for real – with no roulette or blackjack available? Fear not, we know that you would also fall for these evergreens. For instance, there are a few blackjack games, so there ought to be something for players like us. The one and only EUcasino Hold'em & Co. (means Card Games, Slots, Roulette and Video Poker, Live Casino Games and Jackpot Games), for example, is a must-have. For a die-hard dice player, it's hard to refrain from spoiling his/her karma with that bones. With all respect to the one-armed bandits, you will discover here a broad selection of these bonbons – press enter at your own risk and peril!
The card games or roulette are likewise worth giving a try. For example, Starburst and Ninja Master are feeling exceptionally fresh in this new gambling environment. New games are added weekly.
EUcasino Features and Bonuses
You go for a bonus, don't you? It has many different facets, extra cash, free spins – it's up to you to decide. Except for the VIP members, this holds for all gamers.
The EUcasino newbie bonus has a total value of 350 euros. With a little luck, you can win up to 150 spins. There are three deposits in this bonus. NB: many games are not counted to 100 percent:
350 Euro bonus, 3 deposits
150 no charge spins
1st Depo Bonus: 100 Euro (100 percent) + 30 spins for free
Minimum depo: 20 euros
Bonus must be implemented 30 times
Bonus period: 30 days
Our hobnob with EUcasino is a bit of trial and error. It is so that the bonus conditions are very good. On the other hand, they are limited in their use, free spins no deposit in particular. Applicable games are hard to peep through either. You can get, for example, the EUcasino Bonus (bonus code: YES) on the first three deposits. Take a look at the table below:
100 percent + 100 euros & 30 spins
50 percent + 100 euros & 50 spins
50 percent + 150 euros & 70 spins
Do you see it? It is just less transparent than it once was..
Some games are worth 10 percent only, whereas the majority of them offer the full-fledged 100 percent. The bonus conditions are not necessarily outstanding yet fair. This and the high bonus rates make them a very lucrative package.
The minimum bets of 25 cents are on the slots. At Baccarat, the minimum bet is 5 euros. Otherwise, you can start with 1 Euro. Even for high rollers, there is something to grab. Overall, the offered limits should suffice, also if the minimum limits are likely to be too low.
Lest we forget to talk about the EUcasino VIP program:
Cashback for every single bet
Free rewards when you go up one level
Your VIP account administrator
Exclusive events and special offers
Giant bonus offers
Free spins completely without deposit
Nucleus players best value this type of free spins because it goes completely without any commitment or risk. The truth to be told, almost any UK casino can give such a generous bonus to its players.
There are also online casinos that provide their players with free spins but do not give them to their customers for free. Instead, they ask for a deposit in advance. Such offers are currently only in fashion, but increasingly pile up in the industry. This is because of the lower risk this reward choice brings to gambling clubs. This does not need to be a level rate print of money sums, similarly as with an exemplary depo reward.
Deposit bonus and free spins
The most lucrative option for all players is a combination of deposit bonus and free spins. If the new customers sign up to play EUcasino and recharge their betting account with a credit, then they can claim both a depo bonus and gratis spins. EUcasino is a particularly good example of such an approach. That is. Not only the newbie bonus is related to these pays, but a whole bunch of free games is also in barn. You'll find them in the daily bonus calendar, which applies to all players.
EUcasino Payment and Withdrawal Methods
Not only in forums and blogs is reported on it, but also from personal experience, the online transfer is dependable. Its speed would require a couple of enhancements. This is pointed out by customary clients of EUcasino. Since it can take too long for the cash to be credited to the account. Irritating. In such a case that you want to sign up, however, don't have a Visa, you'll get the runaround. Bookmark this article; it comes in handy then. The more options, the better: Skrill, Neteller, Zimpler, EPS, and more.
Deposit methods




















Withdrawal methods






For those about to withdraw in a fast and uncomplicated manner, there is the EUcasino PayPal. Deposits are processed quickly and free of charge. The client finds out about the pays just when he/she has enlisted and needs to make a withdrawal. This isn't a trick. Every payment in question we've tested has been handled without inconveniences. Still, a little more transparency would be nice to see in this department. It's 2020, after all! The payout speed is decent though it can linger, depending on the payment method.
However, there is no overview showing the fees for all payment methods. Therefore, the customer must pay close attention to whether a fee is incurred. Deposits are consistently free. A little more transparency would be desirable at this point.
EUcasino Customer Support
Support can be reached by telephone via a chargeable UK number. You can send an e-mail either. In our experience, it can take several days before an answer arrives. Nevertheless, an e-mail is always preferred as a support option. EUcasino speaks 20 languages. Employees are quite helpful, but relatively complicated communication makes it difficult to get the right answers.
Live EUcasino
Here comes live EUcasino, which is of very good quality. These games are played against the live dealer around the clock. So it's up to you when you want to make bank… The quality of the stream is decent, so we have nothing to complain about. The live feature raises the EUcasino bar even more.
Mobile EUcasino
The uplifting news first: we can go mobile now! Unfortunately, there is no dedicated application for that. While offering numerous games, EUcasino has made not every one of them playable out and about. The enlisted clients need to go to the site and play EUcasino in a split second with their cell phone or tablet. EUcasino online is intended to recognise the OS in use. There is no compelling reason to download the game.
EUcasino Security
In addition to other things, it is about the security of client information and reasonable betting, with the goal that misrepresentation and sham get no opportunity here. The EUcasino website seems to be a rock-solid offer. This also applies, for example, to deposits and payments system that uses SSL encryption. We have found no reason to doubt the reliability of the EUcasino:
Maltese and UK gambling license
Independently tested and certified by the iTech Labs
Secure data transmission with SSL encryption
Conclusion
EUcasino is owned by SkillOnNet Ltd.
What's more, it is authorised by the most confided gambling specialists in the industry – by the UK Gambling Commission and mighty Malta Gaming Authority headquartered (Glory be!) not in Brussels or Berlin but Kalkara. The scope of the games offered by EUcasino is impressive. It is an exquisite mix of modern slot machines and evergreens we all used to know and love. Still, there is a lot the operator could do for us. In particular, the 350 euros dark house bonus that EUcasino tends to offer should be more customer-friendly.