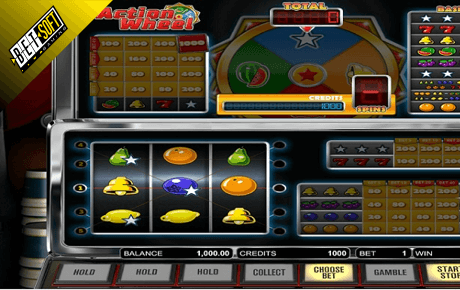 Action Wheel is a retro game that reminds of one-handed bandits you can find in casinos of Las Vegas. It is a very simple yet entertaining and rewarding game with straightforward rules and intuitive gameplay. Even if you have not seen any of slot emulators before, you will understand how it is played almost instantly. The developer of this emulator is Betsoft. The team has created an old-school game for those who enjoy playing arcades and slot simulators online. Action Wheel is a simulator you play in your web browser. It requires no download. You are also not expected to install any new additional gambling software on your Mac, PC or mobile device. It can be played on our site for free. In case you want to play this fun game for real money, you also have a chance to do it.
Gameplay and rules
While the game looks pretty simple and retro-styled, it is much more interesting than other similar slot emulators. It has multiple levels, nice bonuses and built-in extra mini games. Unlike it is in most of the video simulators, the number of reels is limited to three. It is what makes Action Wheel more similar to classic slots and not browser games. There is only one payline and you can place 5 to 40 coins on it at a time, which makes it even easier to figure out how big your bet should be. You always have a possibility to spin reels manually by hitting Start button each time you place a bet, or the game can be play in autoplay mode. You can see all possible in-game winning combinations on the screen. The maximum paying symbol here is the star – if you place 40 coins, you can win up to 1000 of game cash.
Available bonuses and extra rewards
A unique feature of this game is a possibility to hold a reel or even all of them when you see that it can bring you a win. And when you get a prize, you always have a chance to double or even triple it. For this you just need to press Gamble button which only activates after wins. By pressing it you enter a new screen where you have to remember and choose different items. Each correct guess multiplies your reward, and in case it is incorrect, you may lose everything you have just won. Luckily, you can leave this mini-game at any time.
There is a Basic Game mode which activates when you make the smallest bet of 5 coins, and there are three other levels. The difference is that there are more winning lines (up to 5 of them) in the higher levels, which means that you have higher chances to win. But no matter how much you win, you can always either collect it all by pressing corresponding button or continue playing.
The most interesting features are only available on the highest level. To activate it, you need to choose 40 bet mode. You pay more for each spin, but you also have higher chances of winning a bigger reward. In fact, you can only win the biggest prize available in game when playing in this mode. While Action Wheel is a quite a simple game, it will be interesting for both new and experienced players. It does not differ much from other online slot simulators, but it's retro vibes and good prizes are very attractive and the real chances to win (no matter if playing for free or for real money) is what makes this game so great.