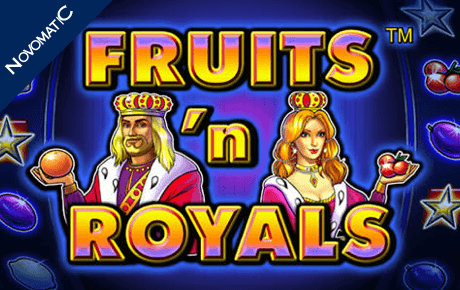 Slot games offer everyone winning much money easily. Are you struggling with that Poker rules once again? Why don't you just let go of all the gambling strategies and enjoy the pure fun of the casino game. The win for real, play for fun – it's easy!
Fruits' N Royals Slots – Juicy Gambling Online
Fruits' N Royals slot game is effortless to play all day long. Just spin the 5 x 3 reel with five possible paylines. The juicy theme includes matching the sweet cherries, berries, melons, grapes, and other fruits for your winning pleasure. There are also some Kings and Queens ready to share with you their regal treasures so be prepared to catch them, too.
The Fruits' N Royals hot new online slot offers colorful 3D graphics, fun sound and visual effects that will keep you interested along the game. If you're not very much into specific slot machines with themes like ancient or movie characters, then this game is a perfect choice for simply having fun, while also winning big prizes. Keep reading to find out the simplest solutions for winning with sweet sensations of the Fruits' N Royals gambling game.
Gameplay and Prizes
Only you decide how much money you will stake on each spin of this game. Keep in mind, though, that the possibility of winning will somehow depend on that, too. To make the play even more challenging, you can choose less than five lines to count in case of the fruits or royals alignment. The next valuable feature is that you can stake your bets using a coin denomination. What does this mean? Well, it's easy. You can assign your coin a value from 0.01 and higher. This means that you can bet less money per one line, while also involve as many paylines as possible. This is a very useful feature when you are dealing with a tightened budget and want to play your way cautiously in order not to lose all the real money. In general, you can set the range of 1-100 coins per payline, using special values for each of them. For example, if you choose one 0.01 coin on five lines, you will spend 0.05 coins per one spin total.
There are also random prizes and wild rewards at Fruits' N Royals as well. With a left to right match of two and more small fruits like berries or citrus you obtain prizes of up to 20,000 coins. Melons and grapes can bring you the maximum sum of 50,000 coins. The Stars and 7's signs bring juicy rewards that are given out totally random. Stars might mean the instant top-up for 25,000 coins at max, and the red-hot Sevens will shoot a massive win-win combination at you counting a maximum of 500,000 coins in case of lining up 5 of them on a single payline that you bet on.
Fruits' N Royals – Chances to Win
Features and Bonuses
The fast and sweet prizes at Fruits' N Royals can be either collected or gambled in specialty games along the way. For example, one of the bonus rounds that implies guessing whether the card in the tossing deck will fall red or black. If you guessed it right, your prizes double! and you can double them up to five times per one bonus round. Wondering if there any special cherry on top of it all? Yes, there is. The top prize of up to 500,000 coins will land right in your pocket if your reels spin and stop at five royal family crowns. This prize can also be taken for a Gamble Feature and be doubled up to five times more than it initially was.