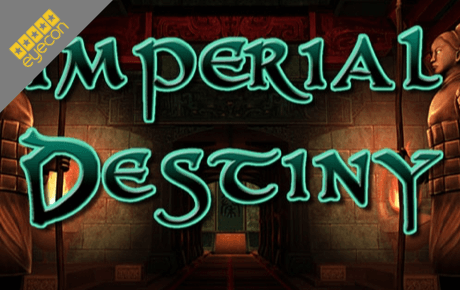 China is known as a country with great tourist opportunities. Here, the rural landscape is replaced by the majestic skyscrapers of large megacities. Ancient China has four great inventions: paper, typography, compass and gunpowder. China is located in Central and East Asia, on the western coast of the Pacific Ocean. This is the third largest country in the world. China has many centuries of traditions that have been betrayed by the Gods. Eyecon develops colourful themed slots. The next masterpiece of the company is a model called "Imperial Destiny".
Gameplay and Prizes
The stylistics of this game lottery is executed completely in accordance with the eastern theme, which the developers and designers of the company offered to players. All over the world, people know about the culture of ancient China, it is considered very interesting and mysterious. Most often in Chinese sermons and legends, brave warriors are mentioned as well as beautiful ornaments.
The background of the game is a temple where the Chinese held sacred rituals and communicated with the Gods. In the centre of the screen is the playing field, which is the main part of the game. The name of the game is located above the playing field, being executed in the oriental style. At the bottom, as in most gaming machines of this manufacturer, there is a panel with keys for controlling the game process. The game has not too much buttons, so you will not have any difficulties with understanding and managing the game. First, you need to bet using the "bet" button. Nearby there is the "lines" button that exposes the necessary number of active lines. In the centre, we can see a blue button that launches the game with individual rotations. If the customer would like to enjoy the atmosphere of the East, then he/she should activate the "autoplay" function. The interface is very simple and colourful, and the musical accompaniment allows you to better feel the atmosphere of the game. Talking about settings, users are only offered to turn the sound on or off.
Features and Bonuses
Shi Huangdi plays like wild so you can only meet him on the 2-nd and 4-th reels. However, this is not all, as the stunning online game has several additional games:
The Prize Pick feature will be activated after 3 warriors appear on the playing field. After this, the player must select several figurines that hide different multipliers.
Free Games feature. After the player catches 3 bells, he/she will go into an additional round of free spins. Please note that this mini-game can be restarted.
The main whip of the "Imperial Destiny" emulator is 2.5 thousands coins. So, play and win real money!