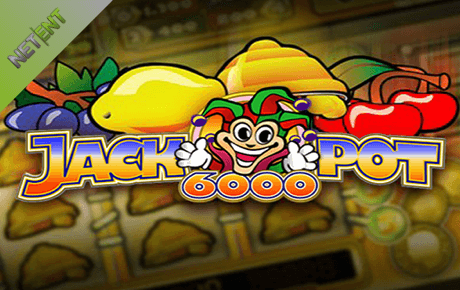 Despite the fact that the main specialization of NetEnt is the production of video slots, the classic models also work well for developers. An example of this can be Jackpot 6000 three-reel slot, which we will consider in more detail in this review. To start playing Jackpot 6000 Slot for real money, register in any partner casino NetEnt and start checking your luck. And if you are tuned for fun, then you definitely will like to play this emulator in a free demo mode.
Description of the interface of Jackpot 6000 Slot
The interface of the game field of Jackpot 6000 free emulator is very simple and recognizable and is similar to most "fruit" slots with three-game reels. You will find yourself in a casino in front of one of the "one-armed bandits", ready to test your luck. Under them, the developers placed a standard control panel with the following commands:
 Bet: Helps you choose the number of active paylines.
Coins: Selects the coin value.
Spin: Plays the game at the chosen bet / Enter the Supermeter mode.
Max Bet: Spins the reels at the highest bet.
Profile: Gambles the amount of betting on Heads.
Leaf: Gambles the amount of betting on Tails.
Transfer: Gambles a part of the sum.
Collect: Saves the winnings.
The Jackpot 6000 Slot has 3 reels and 5 active lines. The wager on the line varies from 1 to 5 coins, and the nominal value of the rates is from 1 cents to 1 dollar. The jackpot in the game is very attractive and is 6000 coins, as the name implies. Also, the model has a record rate of 98.9% for the classic NEFT slots.
Description of the game symbols of the Jackpot 6000 video slot
The game symbols of Jackpot 6000 classic slot are a standard set of icons for a classic slot. These are stylized images of fruits, bars of BAR, bells, and stars. Since the Jackpot 6000 slot machine is a classic model, there are no special characters such as Wild and Scatter, but the player still has the opportunity to influence the win amount:
After each winning combo, you can try your luck in the game "Eagle and Tails". To do this, transfer a part of the won amount with the Transfer button, and make a bet by clicking on the button with a leaf (tails) or on the button with the male profile.
If you bet 10 coins and win a bonus round, you can activate Supermeter Feature. By pressing the Spin button you automatically activate all 5 lines with a wager of 20 coins, pressing the button again starts the rotation of the reels. If you find yourself lucky and on one of the active lines will drop three images of Jokers – then the jackpot of 6000 coins will be yours!