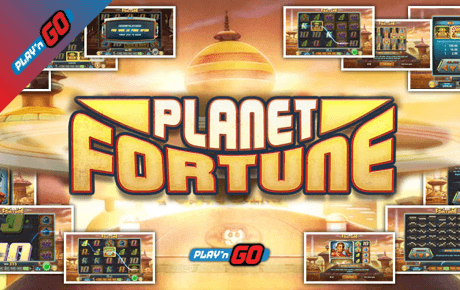 Planet Fortune is the slot machine from developers of the Play'n GO studio. These guys know how to surprise the gamer. That's why they wanted to choose the theme that won't disappoint you and will trigger the interest to the story. With this gambling project, you will automatically travel to the future, where everything is possible, especially if talking about the opportunity of making a couple of dollars by playing the game. Your mind will be blown away by how gorgeous this casino game looks and feels. Designers did an amazing job by creating the powerful project that will show you how modern projects should look like. It's not hard to see why the player should enjoy the power of this game – for making a good profit. What makes it even better – you don't have to pay anything in order to test the product. It is possible to open a free trial mode. With the help of it, the player does not need to register, because all functions are going to be available right from the start in a demo version. Besides, it is a good way on how to build a strategy. Tactics are very important in slots with such a gaming process, like in case of this project.
Gameplay and Prizes
The starting point is very simple – you need to collect matching items on the same paying line in order to increase the score as soon as it is possible. But the point is that it is better to pay attention to some special items. However, the best thing in this project is prizes. It is easy for the player to win up to 250000 as the jackpot. The user will have just enough space for making it all happen. For example, there are more than forty bet-ways and five reels for making it all possible. It means that the gaming field of this project has a scheme of five on four game. If talking about numbers, don't be scared to play the game.
According to the official statistic, this project has a very high "Return to Player" index. It is about ninety-six and a half percent. It means that the chance of getting all your money back is very high. But if you play smart enough, there is going to be the way to win much more than you bet. Besides, it is up to the gamer to choose how much to put at stake. The bet amount starts with 0.2 and ends with 100 coins.
Features and Bonuses
If you don't know how to get the best result, the robot symbol will show you the right way. Just land it on the paying line and there is going to be a hint on what to do next. On every next spin you will be able to trigger the special event called Magnetic Mayhem. It will sync another reel in order to double your score. If you land three-five wild robots, it will help you get a couple of free spins, which means that the road to jackpot will be easier.