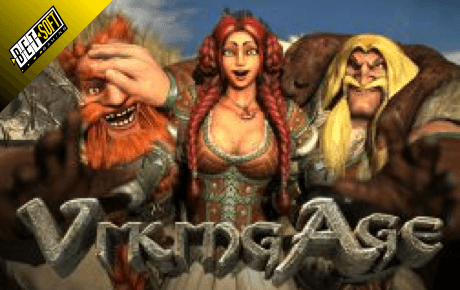 The Viking Age casino is a place for those gamers who like history, wars and everything about that, because atmosphere of this game is for the brave men! This game has thirty paying lines as a whole. It was developed by the Betsoft studio. If you look closely at the slot, you will see a lot of detailed characters of this project, who are represented as Vikings. But no matter how good this game looks visually, it still can be run on any device, not only personal computers. Game designers used simplified, but still pretty good art of barbarian's sculptors. There are a lot of references to their ancient culture. And all those elements are pretty good looking even on mobile phones or tablets.
Beginners can become Vikings for free, using no registration version. It requires nothing, but the willing to play. But it will only give you a chance to spin the reel. If you want to play the real game and earn money, then there is a sign up form on the developer's website. Using it, you can sign in on any device you have. And all your stats will be saved on the cloud drives.
Gameplay and Prizes
To become a professional of Viking Age gambling, you need to start from the scratch. That means, first of all, customization of the amount of money, put on the bet. There is a special option to that – betting per line will require you to press on the "Minus" button to decrease amount of coins and "Plus" to increase them. Then, don't waste your time and spin the reel. It is the only way to start the game. A gamer can go further and put everything at stake! To do that, there is a special option. It will bet on each line the maximum sum of coins possible. But there is a little sad news for those who like the "Autoplay" option. There is no such thing in the Viking Age online. However, this fact doesn't mean you can't enjoy this game on mobile platforms. You still can, because it is very well optimized for every size of the screen. Rules of the game are very simple, so you don't need to do something specific to win prizes. Just follow some instructions, build your own strategy and become a pro player by this simple method.
Viking Age – legendary story with new opportunities
Features and Bonuses
Almost every slot within the Viking Age is specific and dedicated to the main theme of this project. You need to collect at least three helmets to open rune stone door. Inside of them, the player should click on a correct symbol to achieve some coins and free spins. To increase bonuses out of free spins, combine three maidens on the same reel. You can find some interesting items on the other side of the sculpture. This will also help you to increase the bankroll and become the richest Viking on the Earth planet!