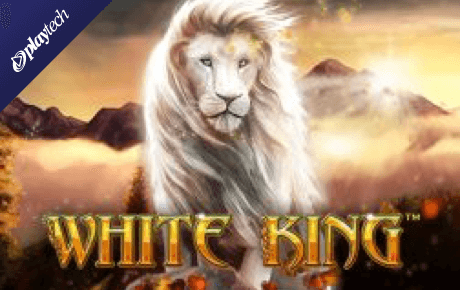 Since ancient times man has been watching the behavior of animals. Leo – one of the most famous animals in the world, for a long time received the title of "king of beasts." Lion is a beautiful, powerful and arrogant species of predatory cats, one of the largest of this kind. It symbolizes beauty and perfection. Savannahs are the favorite habitats of lions, but sometimes they migrate to forests or places overgrown with shrubs. One of the rarest animals is the white lion. It is this factor that makes this predator more mysterious. On the life of this beast will tell the online game "White King".
Gameplay and Prizes
The main character meets users on the background of the savannah. The distant mountains, meadows create the impression of boundlessness. This mood is emphasized by a colorful melody. Game symbols are placed on a dark blue field. Along the field there are lines stylized to the royal scepter. The image of the lion is framed by a golden outline. Lions are playing gold bars. The logo of the machine is also made with gold colors. The main heroes of the slot are a family of albino lions. In the same style with the theme of the game, the control panel is framed. The buttons look like stones. The beautiful graphics of the White King machine are enhanced by animation effects.
The White King gamepad is developed in the same way as in other Playtech slots. Buttons are located with maximum convenience for the user. With their help, the player directs the game process. The beginning of the game can coincide with the click of the button Info – it introduces the player to the basic rules of the game, with the properties of the symbols and their coefficients. Signs + – under the Line button adjust the number of lines in the round. The same symbols under the Lie Bet button control the size of the linear bet.
The Auto Play button is used to start rotations in the automatic mode. A button click opens a window with options for the number of rotations: 1-25-50-99-without stopping. To determine the maximum bet for a round, there is a Bet Max button in the slot.
Features and Bonuses
To receive payments, the player must collect on the active line a continuous combo. The white lion plays the most important role, since it is wild. There is also free spins feature which is triggered when you get three scatter symbols on 2, 3 and 4 reel. The name of the feature is majestic night free game and you can win additional free spins if you get three scatters. The only difference between the base game is that there are more stacked wild symbols during the feature.