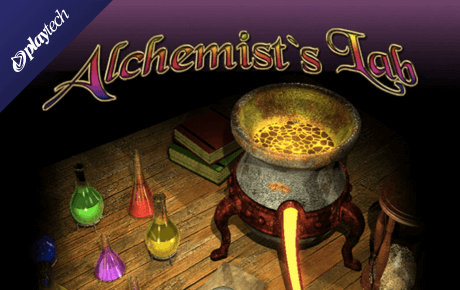 If you have always loved chemistry and you like to observe the transformation of substances in the laboratory then try to play Alchemist's Lab gambling machine from Playtech. In the classic free slot machine Alchemist's Lab you can see how to turn lead into gold.
General description of Alchemist's Lab online slot
Feel like an alchemist in the game Alchemist's Lab, take the magic potions and mix until you reach the desired composition, and if you calculate everything correctly, luck will be lenient to you, you will get gold. Many companies manufacturers of slot machines provide the right to invent a magic potion that creates from any stone – gold, to its players, and only the most persevering and the most successful can find all the components.
Alchemist's Lab gaming machine has three spin drums and also a special bonus game that will help you get rich without chemical experiments, except in the game itself. The mystical music perfectly completes wonderful graphics of the slot game. It should be noted that the theme of alchemy is a very popular trend, playing a big role in creating films in the style of fantasy, fairy tales and fairy tales, and now the gambling industry. Legends tell us how mad scientists spent their days and nights in their underground laboratories in the hope of finding a substance called a philosopher's stone that can turn metal into gold.
Features of Alchemist's Laboratory
Alchemist's Lab consists of 3 drums and 1 payline. Alchemist's Lab from Playtech provides largest possible win of 10,000 credits when you get three gold coin symbols at highest stakes. Characters in the game have a chemical specificity, for example, drums are presented here in form of a rotating coil, and cones with colored substances, coins, rings and other melted things will help you feel the theme of the game and enjoy the magic of chemistry. On drums are drawn elementary chemical schemes for a greater entourage of the gameplay. To start the game, you need to first read rules, make bets and start spinning the drums.
Bonus game from Alchemist's Lab
Also in Alchemist's Lab person will have a bonus game, which you can activate if you drop three symbols of alchemist's book. Then in game you will be given a choice of three bottles, substances in these bottles will be poured into a heating boiler, and then finished new substance will be poured into molds and person will have an ingot, more your gold bar, luckier you will be and the larger will be your winnings. There is no risk of playing in the Alchemist's Lab slot machine, but, nevertheless, the bonus game will replace this kind of game for you, especially if you are not risk-averse to life. Thanks to the payout table you will always be aware of the amount of winnings you have at the moment. Play freely, no download.
Alchemist's Lab will surprise you with a high level of graphics, design and pleasant music, an interesting and slightly magical atmosphere, and person will recall the stories of people who have been searching for centuries for the magic recipe for turning metal into gold in order to get rich. You will feel like this alchemist who managed to turn lead into gold and make the world richer. Get real pleasure of combining the chemical elements, while getting a winning combination, no registration or other obligations.