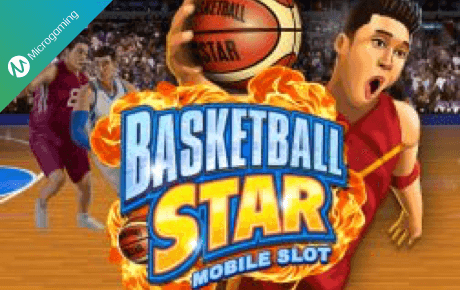 In winter of 1891, students of the "College of Youth Christian Association of Springfield" (Massachusetts), forced to perform gymnastic exercises, considered at that time the only way to familiarize young people with sports, felt extremely bored at physical education classes. The monotony of such occupations had to be brought to its end. The way out of the seemingly deadlock was found by a college teacher James Naismith. On the 21-st of December 1891, he tied two baskets from under the peaches to the railing of the balcony of the gym and, dividing 18 students into 2 teams, offered a game, the meaning of which was to throw more balls into the basket of rivals. The idea of this game was born in his school years when children played the old game "Duck on the rock". Now, basketball is famous all over the world, having many fans who adore to play it or watch. If you are one of this group, then a cool video slot by the Microgaming software producer, called the Basketball Star perfectly suits for you! Regardless of whether you are in Madrid or in Las Vegas, you need to look over rules, gameplay and bonus rounds. In order for this, you can just read this review.
Throw 1. Gameplay leaves all fears behind
All actions are taking place against a background of the basketball arena, filled with a cheering crowd. Before starting a slot's game, you should adjust your wager. You can do it by pressing "arrows" on the bet-button. "+" and "–" can help you with settling the preferred coin size. Then choose the "coins number". In case you wish to play with the highest possible wager press, press the "Max Bet". When you`ve done everything previously noted, click on "Start" to make 5 reels going on. If you are willing to "spin" them without even a little break, activate a special option – "Auto Play". The Basketball Star Slot's symbols are divided into two groups. You can find them below:
The 1-st group – "Players":
– a trying to make a block of a pass player;
– a "driving" one;
– a taking a shot player;
– a dunking player.
The 2-d group – "Things":
– a strategy chalkboard of a coach;
– a set of bottles with sports water;
– white stylish sneakers with green "stars";
– a large golden medal with red striped ribbon.
Throw 2. Bonus rounds can conquer anyone
There are also some fine features of the game. Here are they:
– The "Wild Shot Feature" occurs randomly in a regular game. Up to 2 reels are going to become completely wild and offer a guaranteed winnings in this gambling.
– The "Rolling Reels".
(Note: a description of this one, you can easily find in the slot machine's help-menu.)
–"Free Spins" can be only triggered by landing 3 (and more) scatters (A large "basketball" with the words: "Basketball Star" on it and "SCATTER" on the button of the symbol.).
(3 logos = 15 "free spins"; 4 logos = 20 "free spins" and 5 logos = 25 "free spins".)