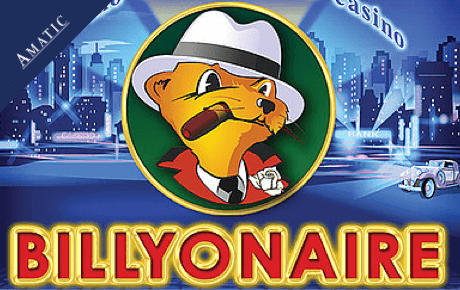 Billyonaire slot machine was developed to provide valuable gaming experience for those who want to play sophisticated and proficient casino online games. It was designed by Amatic as a unique piece of game which has no alternatives in offline slots of Las Vegas. Below you can read the full review of this wonderful game available in more than 36 online casinos at the moment.
Slots Themes
This game is intended to have a unique interface with own symbols. The whole game is conducted on the main screen including the bonus game. The game is available in several languages, including English, Russian, Turkish, Bulgarian etc. Unique design of this game provides the outstanding atmosphere and sharply distracts from the real world. When you start playing, you are stunned by the spin performance and cannot take your eyes off the display until the spin is completed. Even than you prefer to wait couple of seconds to make sure that the disposition of the figures is victorious.
This wonderful game looks like the old style Monopoly games with vicious figures of the newspapers, hand made vehicles and happy people that can bring happiness to you when positioned in the right combination. Generally, this game was created by proficient Amatic designers – the authors of hundreds of other great looking games.
Gameplay and Prizes
The gameplay is rather easy if you do not want to think over the details. However, if you want to become sophisticated player you should pay attention to the combinations that appear at first. The maximum Jackpot in this game is equal to 10000 credits which can make 10000 Euros or USD. The minimum stake per spin makes 1 credit and it should be stated that there are as many as 40 active lines available in the Billyonaire slot machine game.
You can choose on your own how many lines to play and you can bet up to 75 coins per each line – however, this would be rather risky tactics. In order to find out whether you win or not you need to look over the symbols from the left to right and in case the given combination has appeared you gather the prize. Do not be disappointed by the fact that there is no progressive jackpot here – the amount you can win is still rather significant.
Features and Bonuses
You can play a bonus game if you get some Wild bonus figures (3-7) as the result of a spin, so you need to make a spin and than you can win up to 7 free spins is succeed. This allows you to increase the chance of victory dramatically and if you want to try out different tactics on the long-term perspective the autoplay function is always available for you – it is fully customizable. There is also a Scatter symbol in this game. So, as you can see there are many chances to win here if not a full jackpot, than, definitely, at least couple of hundreds of dollars per a single spin. Unfortunately, there is no multiplier here, so your sum cannot be multiplied even twice when you win – that's sad, but still due to the fact that there are so many bonuses here it is really compensated.