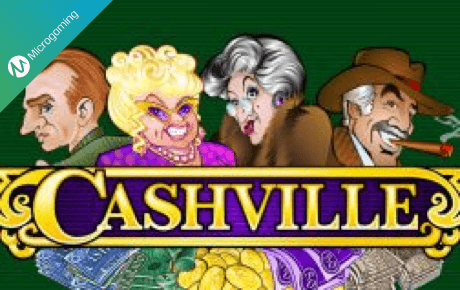 We want to present you, dear player, Microgaming`s golden video slot, after opening which you will feel the atmosphere of Cashville – a town far from Las Vegas where everyone tries to earn easy money and becomes mad hearing the word "gold". The online slot has the same title as the town.
You will fall in love with the gameplay!
5 dark reels are laying against the foggy background of mountains in the clouds. You will look at the "grid" and be sure that you are sitting now in a large dragon's lair because the upper part of the screen is decorated in a relevant manner. In the middle of the "top" is "DRAGONZ" written with yellow and slowly coming into the orange shades font. The "R"s leg continues further and ends under the "Z" with an arrow-like "tail". "243WAYS" is a yellow 3D text "hanging" against the fog by left and right edges of the game field.
"Max Bet" sets the maximum bet. "Select Lines" helps to set the amount of paylines. (Keep in mind: you always have a right to use a magic autoplay-option.) The symbols seemed to be an exhibition of contemporary art that is called like "Madness of Cashville or Thirst for Money". There are four portraits of charismatic citizens of the famous town: a white-heared man wearing a brown hat, a retro suit, a ruby tie (William "Big Bill" Bullion is smoking a cigar.); a silver-haired old woman with a horrible makeup wears a brown fur-coat (Grosselinda von Deeds is holding a document with a blood-red seal.); a terracotta-haired man with a large nose, greedy blue eyes and angry lips (Brendon Stirling always wears his bluish suit and does not like to talk much.) and a fair-haired not so young woman-holiday is wearing super-luxury glasses and a lilac-purple dress (Elizabeth "Pinky Betty" Boodle hold in her hands a rosy not less pathetic poodle.). Also, you will see their favourite things in the present slot machine: mister Bullion's brown cigar and golden bonds; Grosselinda's blue cashvilles (money of Cashville) and a deep-purple brooch; sir Stirling's two green stakes of dollars and much more white "chips" and missis Boodle's violet cashvilles and lilac beads.
Bonus rounds can make you mad
A luxury picture framed with the golden border of the astonished golden "W" with fantastic ornaments, a large bloody gemstone is underneath it and a white diamond over is "WILD". Except substituting all symbols, it can create a lucky combination! Not less luxury one is an image of the ornamented golden "S" that is placed against fresh-green mint leaves, being decorated in the corners with the small silhouettes of William Bullion, Grosselinda von Deeds, Brendon Stirling and Elizabeth Boodle. "Cashville Bonus Game" can be played only after you gain 3+ silver coins with a bright-violet inner circle with many tiny yellow icons of "stars" and a large red-yellow "BONUS". Here is "Gamble Feature" as well.