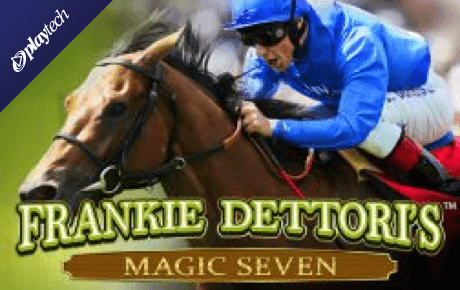 Horse racing is always associated with elite clubs whose rich members have bet and won a lot of money. Of course, not every one of them got a positive result, but there was one rule: "If you want to win, then rely on Frankie Dettori." Many years ago, Frankie was a popular and successful jockey who won many different awards. As you know, different manufacturers like Playtech often use popular personalities in themed slots. Frankie Dettori's Magic Seven slot tells about popular horse racing and the main favorite of any race.
Gameplay and Prizes
Future celebrity was born in Italy in 1970. Jockey's profession is inherited from his father who has achieved great success in this country. At the age of 12, Frankie Dettori became the first jockey to identify 100 winners in a single season. After 4 years, he won the tournament in Turin. In 1996, Frankie Dettori even got 6 wins in one day!
The life and fame of this jockey are described in detail in the thematic slot machine which is equipped with 5 reels and 25 winning lines. By the way, all the lines are marked with special indicators on both sides. The main screen is filled with green shades that imitate the main racetrack of Italy. It's no secret that all Playtech video slots are filled with beautiful graphics. In Frankie Dettori's Magic Seven game you will find not only beautiful 3D characters, but also real photos of the great Frankie Dettori. Of course, this story is complemented by thematic sound effects and animations that appear during a scoring. Wooden keys are located below. First, we recommend visiting the section with the rules that opens with the Info button. After that you need to determine two main indicators: the number of active lines and the size of the bet. Both indicators are governed by the corresponding keys: Lines and Bet Per Line. You skip this step if you click the Bet Max button that activates the highest scores. Start and Autoplay activate rotations.
Features and Bonuses
The number of combinations and payouts increases when the participant uses Wild. This symbol replaces the secondary images and also makes up individual combinations. When two Wilds appear on the same line, you get a payout as well as an additional multiplier.
"7" is another special character and several such elements on the playing field give players free spins. Before you perform 10/15 or 35 FreeSpins you need to choose one horse that determines the number of free rounds.
The bonus picture appears on the screen often. "Magic Seven" bonus round is activated when two such pictures appear. After that you need to choose places on the hippodrome that will be presented by fees and different multipliers. If the player finds a trophy, then he/she will see the record of Frankie Dettori's legendary victory.