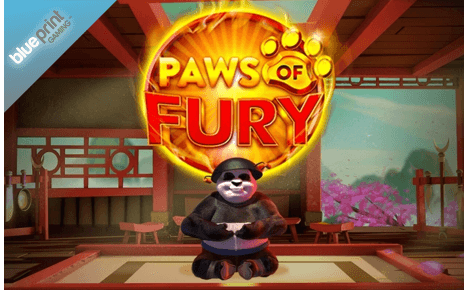 Today, numerous slot developers are focusing on the Oriental-driven themes, which become more and more popular and continue to be the most beloved topic of users and software producers alike. In a new slot by Blueprint Gaming, you will encounter an amusing creature that has long been in focus among major film producers starting from the introduction of Kung Fu Panda cartoon. The Paws of Fury slot game is centered on a similar idea, while the animations are created in the best traditions of Asia-inspired slot development. Here you will get a chance to see peculiar symbols of China with the whole background being made in different shades of red color. In this way, you will be able to immerse in the inherent atmosphere of the Oriental universe with all of its mysteries that are waiting to be discovered.
Gameplay and Prizes – Amazing Animations Coupled with High-value Rewards
The Paws of Fury slot machine does not need any registration, which means that you can play it right away as long as you are connected to the internet. It is perfectly compatible with different operational systems, although you will not be able to download it to your device, as there is no download option. The gameplay itself is rather dynamic with the Panda-warrior serving as the key character of this online adventure. The game allows winning up to five hundred coins per stake. However, in case you are not interested in getting some cash, you could easily switch to another game mode, which will allow you to play the slot for the purpose of having fun only. Still, if you are more concerned about winning some weighty prizes, we have good news to you, as the jackpot in this slot amounts to not less than 250 thousand dollars. In general, this game has 5(3) user launched reels that are provided together with 20 paylines, which will all let you hit big-priced winnings.
Features and Bonuses
Among the splendid features provided by the game developers, the multiplier capability should be mentioned. In fact, if you come across the logo token, you'll be able to multiply your winning 500 times, while the Chinese pagoda image will award you with a 250 times bigger prize than your primary bet. In this way, the multiplier option is definitely worth making an effort. Furthermore, the game has numerous other fabulous elements coupled with the ability to play a few bonus rounds. Generally speaking, this China-driven adventure is equipped with multiple useful features, such as a wild sign and among others – additional spins. The wild icon takes the shape of a paw and will let you replace several other signs, although this does not refer to the scattered token.