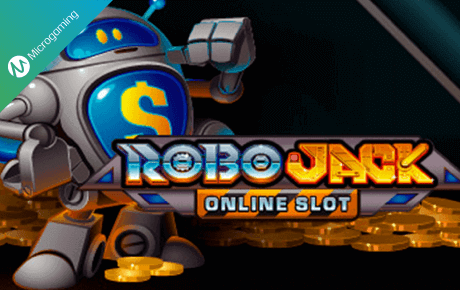 Curious to remind, that an information about the 1-st practical application of the prototypes of modern robots send us to the far Hellenistic era. The prototypes of the robots were also mechanical figures created by an Arabic scientist and inventor Al-Jazari (1136-1206). So, he designed a boat with four mechanical musicians who played on tambourines, harps, and flutes. However, the drawing of the humanoid robot was originally made by Leonardo da Vinci around 1495. As you see, the topic, which we have touched, is about these metal creatures, being represented in the Robo Jack slot by Microgaming, which takes you on the mythical and historical adventures. Moreover, you can play it with pleasure online!
Familiarize with the slot machines Gameplay
The main Robo Jack's characteristics:
 243 paylines have been placed on 5 reels;
 max. coins per line is 1;
 min. coins per line is 0.010;
 max. coins size reaches 0.25.
In addition, you need to take a look at the slot game's rules. In order to start, you need to regulate a wager by clicking on the arrows under the "Bet" button. Then, settle a number of paylines and press the "Expert" button for spinning the reels without any interruption. "Autoplay" option is possible to be pushed. Enjoy the colourful futuristic symbols: to the gambling cards' value (aqua-neon 'J'; a graded with orange and yellow 'A'; very bright sunny 'K'; deep-purple 'Q'.) and some robo-themed. The game contains only one important rule: you need to find matched symbols on the reels. It is very easy!
Which Bonus rounds can you find in the Robo Jack casino?
Let's start talking about two special and most interesting symbols. The 'Wild' one (the Robo Jack's logo) has the same stylish look as the game, containing 2 words: a graded blue-white 'ROBO' and a rusty-yellow 'JACK' which are written one under the another and placed in the middle of a huge gear. 'Scatter' is denoted by a bright-yellow dollar sign ('$') that is visible on the 'belly' of the large robot with a funny position of its hands.
"ROBO JACK" replaces all the symbols, except Scatters. The most attractive feature is a bonus game called 'Free Spin'. For entering it, you just need to match 3 '$'s. After it, you will be taken to the Robo Jack's lab facility. Here 5 robots are waiting in order you will get them out from their storage devices. For that, you have to pick a number of valuable bots. If you aren't lucky to guess from the first try, you can play this gambling feature again. A friendly robot is coming for you to be gifted with lovely surprises. Description of the dependency of the robot colour and prizes amount (f.s. – free spins):
'green' brings you 40 f.s. with Wild;
'purple' awards up to 40 f.s. with Scatter;
 Robot 'Green X3' can give 50 f.s. and multiply the winning amount by 3 times;
 orange' brings you 60 f.s. with some extra Wilds;
 'cute-pink' give up to 65 spins.