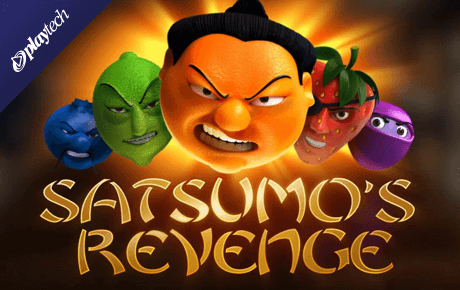 If you like fruits, then the Satsumo's Revenge slot game is for you. The plot of the interesting Satsumo's Revenge online game is really exciting. The Satsumo's Revenge slot machine was developed by Playtech and you will have a lot of fun there. Do not miss it.
Gameplay and Prizes
When you start playing the game, you will be able to see 5 reels and 25 pay lines. You can make bets on the reels. The lowest one is 0,25 and the highest one is 500. It is up to you which exactly bets to make, as you can change them in your control panel. It is very easy to manage the control panel, so you will not spend a lot of your time. However, you should remember that if you make a high bet, you will be able to get a high prize and a low bet will bring you a low prize.
Also, you should remember that there is no downloading and no registration here. It will be a benefit of the game because you should not spend a lot of time on registering in different forms and other useless processes. If you wish to play the game online on any device, you should not download it and install. You can just open it and play any time you wish. The main colors in the game are orange and red. You will like the style of the game, as the colors are bright and the graphic is perfect. You can see many different symbols here, which can bring you a lot of money. You will be able to see dragons, lemons, plumps, strawberries, cherries and so on. All these symbols have different price – some of them are expensive and some of them are cheap. You will see the prices at the beginning of the game.
Features and Bonuses
The main prize in the game is the Jackpot. It consists of 60,000 coins, so you can be the winner in the game if you win this sum of money. It is not very simple, however, if you believe in your luck, you are persistent and the fortune will help you, then you will be the winner in the game. If you are interested in a wild symbol, you will see it here. If you find the wild symbol on a pay line, it will change all other symbols to more expensive ones and you will have more money. You will be lucky if you find the symbol because it is difficult to predict when exactly it appears on the screen. In addition, you can find bonus games and free spins in the game. Just find needed combinations of symbols and activate them. It will give you the chance to earn real money.