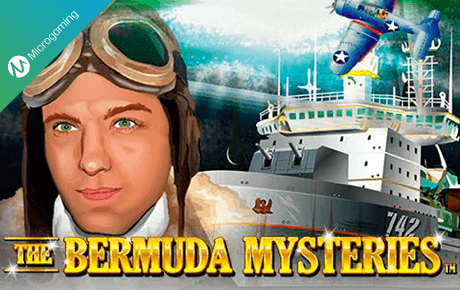 What is the mystery of the Bermuda Triangle? Why do ships and planes disappear there? Is it possible to get out of the captivity of this mysterious geographical anomaly? The answers for all these questions you will try to find by playing a new five-reel slot from the Microgaming Company, called The Bermuda Mysteries. Go to a research expedition and find a black box on a sunken plane to clarify all the details of the crew's horrific disappearance. You can play The Bermuda Mysteries in free mode right on our website.
The interface description of The Bermuda Mysteries video slot
A playing field of the The Bermuda Mysteries slot is placed against the background of a hostile stormy sea. There are 5 reels here, but you won`t see their boundaries, which also adds some highlights. The game symbols themselves are painted with multi-coloured ink: life jacket, lifebuoy, missing plane and its black box, as well as photos of colourful landscapes of Bermuda.
The range of bets varies from 1 to 20 cents. You can bet one coin per one, several or all active lines from 25 of them, the value of which is indicated in a special table in the corner of the screen. In addition, the slot is equipped with usual buttons:
Lines: Chooses the number of active paylines;
Bet: Selects the amount of a wager on each active line;
Spin: Plays at your chosen wager;
Autoplay: Spins the reels a certain number of times in a row.
A jackpot is equal to 5000 bets, so it makes sense to immediately play big. However, if you are new, then you can play The Bermuda Mysteries in its free mode. In addition, an extremely high rate of return of this gambling machine, reaching 95.33%, should be noted. It means that almost all of your spins will be winning ones!
Bonuses and features of The Bermuda Mysteries video slot
A set of special characters affecting the gameplay of The Bermuda Mysteries casino video slot is standard, but the characters themselves have their own characteristics.
The wild symbol is depicted as a pilot. It appears exclusively on last three reels and, accordingly, doesn`t create its own combinations. Its task is to replace the ordinary pictures in order to contribute to the formation of prize combinations. However, it's not that simple. When the Wild symbol hits the winning combination, it becomes expanding. As a result, there is a high probability that new successful combinations will appear on the field;
The Badge symbol is Scatter. It gives you 12 free spins and activates the Radar Bonus feature. Collect the Radar icons during this round to win a bigger multiplier;
A Map icon is the bonus symbol. The combination of 3 such elements on the playing field gives a player a right to go to the Bermuda Triangle himself, looking for a hidden treasure.