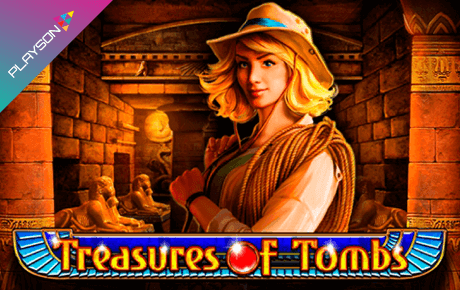 Just like a player might have guessed by the name of the project, Treasures of Tombs is all about ancient mysteries. This game is inspired by famous movies and books about adventures. Developers from Playson Studio decided to make a project about the Egyptian culture. It is an instant classic for those who watch TV programs about the best civilizations. Designers of the game did an amazing job by creating a modern look for every slot on the gaming reel. The player can find it somewhat funny, how the game looks like. Especially if talk about the background image.
It creates the perfect atmosphere of an adventure. The gameplay was created to deliver an interesting experience not only for beginners but also for hard-core players. To become an investigator, the player can use any device he/she has – from a personal computer to a smartphone or a tablet. The project is perfectly adapted to work with any hardware. The only requirement is to have an active connection to the internet. What is more important, the player can launch the game for free. However, it will be a demo version with in-game currency. If you want to use and earn real money, then sign up and sign in with your own profile.
Gameplay and Prizes
Treasures of Tombs online deserves an award for the simplest gaming process among modern games. The first thing the player should do after launching the game is to use a special panel right under the gaming field to customize the account settings. To change the amount of money to put at stake, the player should use the Bet One function. The player can choose the correct line on which he/she is going to play by clicking on the Lines section. Now, you can spin the reel and start the game.
However, there are a couple other functions, which you can use to make the gameplay even easier. Autoplay will help the player not to focus on the game that much. Activate it and the game will bet automatically for a specified number of times. It is very popular among portable players. For the players who would like to risk, there is the Max Bet function. It will raise your bets to the maximum value. So, think twice before using it, as it is easy enough to lose everything at one moment.
Features and Bonuses
Just like in every normal game from the web, the only thing the player can do to get bonuses is to collect matching slots on the same paying line. Land at least three similar items and your winning score will be doubled. However, if you want to go further and become rich with this game, then you can use the help of scatters. Scarab logo provides a perfect way to enter a mini-game and win the biggest prize with over 5000 coins at stake.