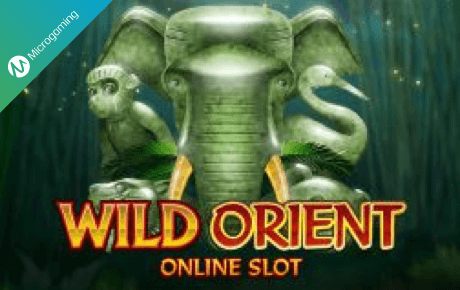 The first poker gambling machine by Sittman and Pitt was created in 1887. The automatical payout slot was performed by Charles August Fey. Herbert Mills in 1907 performed a machine with a BAR-symbol. Money Honey is an electromechanical machine that was created in 1964. And only 89 years later, in 1976, the 1-st video slot was performed by Fortune Coin. Gamblers could play it in Las Vegas (*at the hotel Hilton). Now at the time when all (or almost all) modern people have the Internet or a possibility to access free Wi-Fi a cafe, everyone may enjoy this wild and exciting slot machine anywhere. You should not boil up your mind with such borders as registrations or downloads. The review of the Wild Orient Slot is presented below as divided paragraphs with the main points of the online casino slot.
The gameplay is indeed wild
You will be able to see 5 reels framed with thick brown bamboo border. Here common symbols such as cards' values are placed on the beige "ground" and the portraits of the animals – on their surroundings. Around it, there are two beige convolutions (with black styled for Chinese writing "243 WAYS") that are ending with yellow ribbons. The background is made of very fresh green plants: bamboo thicket, grass, and different large leaves. Beneath the reels are oblong terracotta-orange buttons to re-spin every one of them. A very deep-green panel under these "RESPIN"s contains special regulating buttons. (Click on "+" in the "Bet" panel for making your size wager grown up and "-" if you want to have a bit lower one. Also, you will see "Coins", "Max Bet", "Spin" and "AUTOPLAY" buttons.) Some symbols of the slot's game are inspirited by animals that live on the Far East: a grey elephant which has bent its trunk between eyes in the form of "S" is chewing grass; a large panda is near a green bush with small leaves; an unusual stork with a fluffy tail and a red speck on the head is bending to the river, where beautiful brightly pink lilies are growing; a monkey with a discontented expression on its face is holding a bitten fruit; and a formidable majestic tiger. The rest of symbols are more modest: a decorated with green small rectangle and a very tiny canopy red "A"; a fine yellow-golden dragon is seemed to be dancing on the "beginning" of the "K"; a red "fan" decorated with a hieroglyph is near the "Q"s tail; the bronze coins without centres because of quadratic holes hang up on the ruby thread near "J"; "10" and "9" in the Wild Orient Slot are just coloured with blue and violet shade.
This slot can have only wild bonus rounds
The wild is obviously a logo. There is a nice framed picture of green-bluish thicket against which are yellow words, framed with a red border. The "WILD ORIENT" appears (ONLY!) on the 2-nd and 4-th reels. The symbol that can unlock "Free Spins" includes animals carved in stones (around the large elephant there is a monkey and a tiger that look on left and a stork with a panda – looking on right). Collect 3+ stone-carved scatters and receive your 15 "spins".