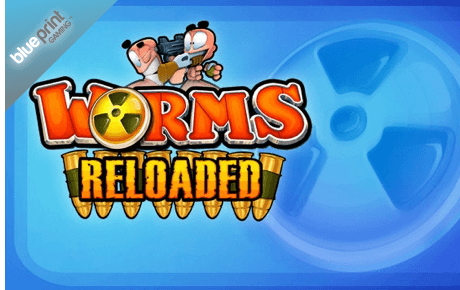 Worms Reloaded is a 5-reel and 20-lines slot game created by Blueprint Gaming. It is based on a very popular arcade game and is centered on a war between different groups of worms. The animation, video and sound effects, as well as mini-games and special icons all remind of the good old Worms franchise. What's more important, you can win a very nice reward while playing this game for free or for real money.
If you have played any of the Worms franchise games, you will find a lot of familiar elements here. There is a standard mode, where everything goes according to the slot game rules, and there is a battlefield mode where two armies collide. Even the helmets the little worms are wearing are taken from the original franchise. They also make their battle cries during the game.
Gameplay and general rules
Basic rules in this slot emulator are very similar to other slots. Winning combination is made of identical icons in the same winline. There can be one or more of such sequences, depending on how lucky you are. Whenever there is a winning sequence, you get a certain money reward. Its size depends on several factors. First, it is the size of stakes you have chosen. Second, the coefficient of the icons standing in this particular line also matters. You can see the coefficients in the paytable at any given time.
Just like it is in any other slot simulator, your winning is greatly affected by your bet. To learn more about how it works, you can play this game for free, adjusting your stakes from time to time. Once you get more familiar with the game, you can start playing it for real money.
All icons in this slot emulator fall into one of the two categories: common and special symbols. The lowest paying icons here are the symbols of cards (from Jack to Ace). To win something, you need 3 or more of such icons in the same line. There are also all kinds of weaponry icons: guns, missiles and grenades, but they don't pay too much as well. The highest paying icon is the logo of the game.
Bonus rounds and mini-games
There is a big bunch of different bonus rounds in this game. It all starts with wilds: there are four of them in total, and it is much more than in any other slot simulator. If you do not know how the wilds in slots work, you should understand that they can stand for any other icon, but other wilds and bonus pictures. There is also a multiplier icon of a crown. You can collect them throughout the game, making your reward even more significant with each collected picture.
Another very important icon here is the symbol of a holy grenade. It triggers some random feature each time it appears in the game. For instance, it can activate an extra wild on any reel, or it can reshuffle all the pictures that are currently in the game.
There are some mini-games here as well. One of them suggests that you explore space, find mines and activate free spins after all correct guesses. With all these bonuses and mini-games, this slot simulator is one of the most enjoyable and fun games of its kind. The best thing is that you can play it for free at any time.