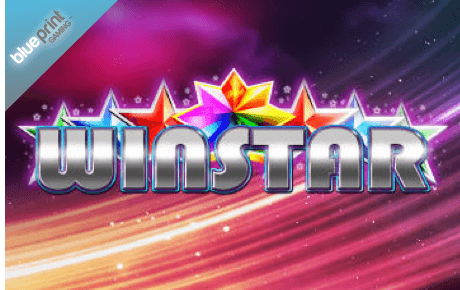 Blueprint Gaming is known for two types of casino games – incredible slot games with lots of bonuses, enjoyable mini-games and amazing graphic design. The second type is much more primitive than that and reminds of classic arcade games or one-handed bandits you can find in any ground-based casino. Winstar falls into the second category. It is a simply designed game with not too many icons or rules to remember, but it has something to surprise you. There is a progressive jackpot in this game. With this feature, you can win up to x500 of your initial bet. There is also a special unique bonus icon that can turn in any other symbol of this game.
Gameplay and rules in Winstar Slot
There are not too many icons in this game and they are basically the images of cards (from 10 to Ace). You will also see stars of blue, red, silver and green colors. Finally, there is a big yellow star. When it spins, a new random mystery symbol is revealed.
This is a classic virtual slot game emulator with 5 reels and 20 winlines. You choose the range of your stakes for all the paylines at once and the number of lines cannot be changed. Whenever the reels spin, they can turn to gold. If all 5 reels become golden, you get a progressive jackpot. The stakes range from 20 to 500 game coins (currency depends on the country of your residence). You can spin the reels manually or you can hit an Autoplay button to activate 50 spins at a time. Unlike it is in many other games of this kind, the winning sequences do not necessarily start from left to right. In fact, they can start at any reel, be in any position. There can even be more than one winning sequence at a time. You can check with paytable for more information about winlines and coefficients for different icons.
How much can you win in Winstar Slot?
All wins are correlated by your stakes, but each icon has its own coefficient. The highest paying one is the icon of a spikey silver star. It can pay up to x500 of your initial stake. Other important pictures are green, red and blue stars. The images depicting cards are the least valuable. Winstar is a relatively simple game with a potential for huge wins, some good bonus rounds and easy-to-learn rules. No matter if you have played slot games before or not, you will understand how to play it almost instantly, because it is even easier than other similar games. You only have to do two things here: choose your stakes and spin the reels.
Everything else is done automatically. Even bonus rounds are activated by software. And in case you already know how to play one-handed bandits or virtual slot emulator, you will find this game enjoyable and rewarding. The game can be played on any platform that supports Macromedia Flash, including desktop and laptop computers, Android and iOS-based mobile devices. It is compatible with all popular browsers and you can play it on our site at any time. It is available in two modes: free demo mode (you can play it as long as you wish for no real reward) and pay-to-play mode. The P2P option becomes available after you create an active account on our site.