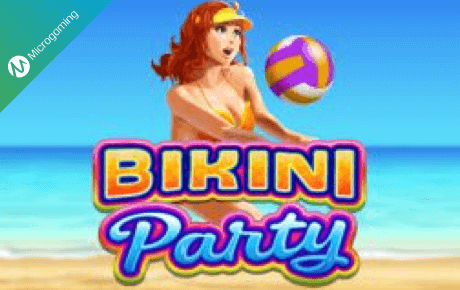 If you are the fan of the beach volleyball or just want to spend time in the company of the attractive hot girls and try luck in the gambling from your home online, then cutie video slot which we can offer you (that is created by fantastic "Microgaming") can be well suited for you! Are you in grey London now, or in fussy Las Vegas, you can enjoy Bikini Party Slot's bonus rounds without leaving your chair! We will start with the small preview which will take you in the past. The birthplace of this hot and exciting kind of sport (beach volleyball) is California, on the beaches of which in the early 1920's there were playgrounds and the first teams were assembled, consisting, as in classical volleyball, of six people. It is also a popular version that in the 1910's in Hawaii, members of the local surfing club, including the famous American swimmer, surfer and water polo player Duke Kahanamoku, often played volleyball on the beach in anticipation of a good wave. The first official beach volleyball tournament was organized in the 1947 year in State Beach (California) by "Holzman".
Gameplay is undoubtedly smart
Reels are placed on a volleyball net which is strung between a couple of poles. Also, in the background, you can see a sparkling sea, clear blue sky, and nice sand. In order to start a slot's game, you have to adjust a wager. You can do this by choosing a bet-button for activation. After, you must set a "coins number". (Range of this number is 0.010 – 0.50.) If you would like to play with the biggest possible wager, click on the "Max Bet". When you already have done previous steps, click on the "Spin" to make five reels going on. Here is, under every reel, a "RESPIN" button. (You can use it as much as you will wish. But remember, that you may "respin" at the time only 1 reel.) The "Auto Play" is present as well. The symbols of the Bikini Party Slot are have been divided into the pair of groups:
The first – "Girls": (all are bold-looking)
– a blonde (seems to be a Pamela Anderson in the youth) in the very slim "Yellow Bikini";
– a black-haired ("Sasha Grey") in the sunglasses wears the "Blue Top";
– cute adult Peppilotta is in the "Green Bikini";
– a red-haired girl with an honey-orange cap and the same color is her bikini;
– a girl in the "Red Bikini" and making a sign of "V" with her fingers of left hand.
The second – "Cards' signs": from "9" to "Ace".
Bonus rounds will strike your head
The yellow-orange "BIKINI" and blue slightly "curly" "Party" – together these words are making a bright logo of the Bikini Party Slot. The Logo has "replacing" function. A flying blue-green-white ball into the direction of the net and a lovely violet word "SCATTER" which is written underneath the ball – a scatter. If such symbols you will collect more than two, you will be received with 15 "free spins" because of coming into the "Free Spins" feature, where all winnings are multiplying by 3 times!!! (Good news: this kind of games can be re-triggered!) The second and the last goodie in this slot machine is a feature which has title "Respin".
Casino Bikini Party: Is it worth to be played online?
It is a funny question if you have asked it. Do read this review one more time and do not forget that there are no "limits" – no heavy downloads and no registration!!