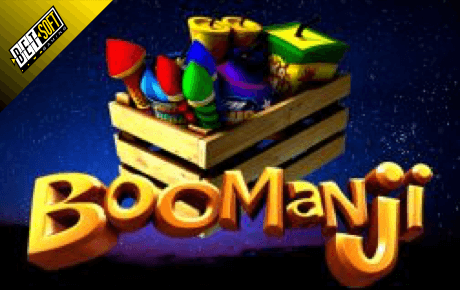 Boomanji online is a perfect way to spend your weekend, because of the whole majority of interesting thing this project has to offer. The main theme is fireworks and all about them. Who doesn't like to blow some of these things for a New Year party or any other celebration? So why not do it, without any need to leave your own home? Nowadays, technologies give people this opportunity, that's why the Boomanji casino is so popular. Game designers from Betsoft studio did an amazing job by delivering good arts of night sky in the middle of which all the firework boxes are held. An interesting fact is, that the game can be played not only on personal computers, but also on handheld devices, like mobile phones and tablets. They provide appropriate way to fully enjoy the gaming process on any size of the screen, because a user interface is easily adaptive.
Gameplay and Prizes
Just like in the case of other slot games, this one starts with some rules to be followed. First, a player should get used to some buttons on the bottom of the screen. "Paylines" is an option to be chosen for putting a bet. "Bet per Line" is a function to decrease amount of money to bet with "Minus" button and to increase it with "Plus".
After all these manipulations, a player can finally start the real game by spinning the reel. Nevertheless, if you don't want to waste your time on all this customization, you should pay your attention to "Max Bet Spin". This option was made to deliver max amount of coins on each line, just to provide you highly valuable prizes. Unfortunately, there is no "autoplay" button for those, who have no time to fully participate in the game. However, the slot is still very simple to play in the public transport, for example.
Boomanji – blow the whole world up
Features and Bonuses
If you want to make some serious explosions, then you might like to collect some items in the game. For example, there is a couple of fireworks boxes with a big variety of colours. They all can be combined on the same paying line. After you get a correct spin, and get at least three green, blue or purple boxes, you will see some blows. After that, they will automatically activate some bonuses, like increasers and free spins. Use them to get big prizes, that you`ve never had before.