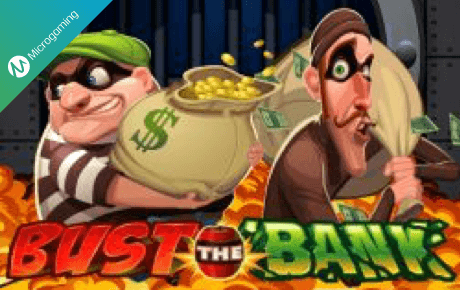 Do you agree that the bank robbery is one of the most profitable and no less dangerous ventures? With it, you can easily get gilded and just get behind bars. The first robbery in the history of the United States occurred at night from the 31-th of August to the 1-st of September, in the 1798 year. 162,821 dollars (!!!) were stolen by Isaac Davis. The inventive programmers of the "Microgaming" software that is created for online casinos can offer their fanny cartoon-like video slot!
The inventive gameplay will make your mood better
Antuan de Chante (A tall and very slim, timid, with a rather mild character, phlegmatic French poet that has the black mustache "a-la Dali".) and Rober de Petraricchi (A short and a bit fat, with the greedy eyes, large nose and strong arms, hot-tempered Italian lazy.) have decided to rob a bank. Everyone had their personal motives.
In the Bust the Bank Slot, there are 5 white reels that are framed with a gray metal border. By both sides of them, there is a glowing-yellow text: "243 WAYS". The background seems to be a closed door to the bank vault. At first, what will be needed from you is to bet. You can set the value of a coin that is in the next range: 0.010 to 1.00 per clicking on "Bet" and after this on "Coin Size". The button that regulates the total bet is called simple "Bet". The game can be started only after using "Spin". Would you like to try the rouge-themed Bust the Bank Slot without pauses? Then you have to use the automatic game mode. Do you want to look at the symbols? A thick, judging by the wide openness of his mouth, loudly shouting security wears a light-blue uniform; a white wagon; an attached to a bunch of explosives, huge yellow retro alarm-clock; a large, resembling more a nightstand than a service dog, beige-white, running (its mouth is open and a long pink tongue hangs near the cheek) bulldog; a bank and a young girl that is driving a black-white police car.
You will rejoice after learning the bonus rounds
There some symbols that you will not see in regular slot's games: an image of a Rober that is holding a beige full of gold coins bag with "$"; a scared Antuan that has threw a large bag of money on his shoulder; a bomb; a safe and a large sweet-rosy pig with the hole in its back for coins. Not re-triggered "Free Spins" can be opened after getting 3+ black "Bomb"s. Here is also a nice bonus game that is easy to be triggered. This is possible to do with the "Green safe" on the 1-st or 5-th (only activated!) reels. When a "Money-box" is visible on the 3-d reel, the "Piggy Bank" feature starts. If you have 5 images of the robbers, you will win 1,500 coins!!