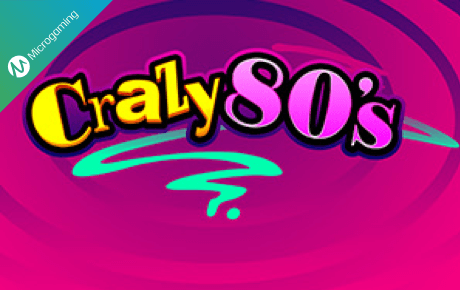 The 80s of the last century formed fashion, traditions and culture. New places opened, people attended discos and nightclubs. In a word, this era was filled with joy and fun. If you need nostalgia and big payouts, then you need a Crazy 80s video slot. This unique game has combined an interesting plot and original gameplay. All these features will help win real money and enjoy the 80s. By the way, the payments in the slot machine reach 5,000 coins!
Gameplay and Prizes
Since the 80s called eccentrics and excessiveness in time, the developers of the slot put these two concepts into the design of the slot and made it bright and beautiful. The clockwork music accompanying the participant throughout the game contributes to complete immersion in the game atmosphere. As soon as the main screen is loaded, you will be transferred to the disco club, where all the elements flash. The central part of the screen is occupied by a large playing field. The developers have added many characters that fully personify the 80s. All pictures appear and form combinations on 5 reels and 9 winning lines, which are indicated by special indicators. It is worth noting the beautiful 3D graphics and animations that are activated after each successful round.
At the top, the participant will see a stylish logo and alternative settings. Accordingly, the control panel is located below. First, every player, novice and high-roller should open the VIEW PAYOUT section and learn all the rules of the slot machine. Here, you will also find the structure of the active lines. To determine the bid, the participant needs to use special controls (+/-) or use the BET MAX function, which activates the largest bid. If necessary, the participant can also change the number of active lines. To do this, you only need to press the SELECT LINES key and select the appropriate number of lines. In addition to the functional buttons, the gaming machine has several fields that show your balance and winnings. Preparation is completed and you only need to press SPIN that starts single rotations.
Features and Bonuses
It's no secret that Microgaming is a leader in the gambling industry. This provider produces original, multifunctional and generous video slots. As a rule, all games of this brand have one or several bonus options, but the Crazy 80s is an exception. In this game there are no bonus rounds/special characters, but despite this, payouts are charged frequently. For this, the participant only needs to catch several identical pictures. The payout depends on the number of active lines and the size of the bet. If you use 9 lines and have made the biggest bet, then the payout will reach 5,000 credits.
On our gambling portal, the Crazy 80s slot is available in a demonstrative mode. This means you can do some free spins and get ready for a real game.