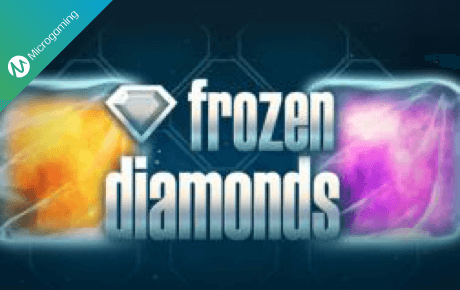 If you are that person who prefers more winter than summer than you have a correct choice! The Microgaming's chilly slot machine inspirited by winter wonders can be played in any part of the world – in Las Vegas or on Hawaii. Put warm clothes and gloves on yourself, and begin to read our review.
Feel the cool wind breeze of the Nordic gambling
There are 15 ice cubes instead of boring elements on the reels. They are placed one on the other at the snow and located between high-rise ice rocks with snow-capped peaks. Generally, all colours are much paler than as usual because of the snow and ice. The buttons of the Frozen Diamonds Slot are just thrown on the snow. The "</>" sign under "STAKE" is your functionality in the case of bet. The size of a wager can be varied, but it necessarily lays in the interval of "0.010 – 2.00". It is a pity but you cannot change the fixed (20) paylines number. The neon-blue circular "arrow" that is placed in a rude "slice" of ice is the spin/start-button.
"BETMAX" and a circular white arrow that is placed around the letter "A" (A hint: It is a disguised "Auto Play".) can make the playing process of slot's game more pleasant. The developers have divided the symbols into few groups. The first is cards' values from "Ten" to "King". Accordingly to a very old legend, symbols from the second group are "alive" because inside every of precious stones are poor souls of the enamoured young women imprisoned for eternal torment in these icy cubes by an evil, once faithful sorceress Elzavett who believed that no one is worthy of love. In a green round emerald is a soul of Irlasha O'Brien – a shy red-haired girl with green eyes. In an orange topaz, reminiscent of the delta of the Nile, is a soul of Yulduz Dilshat (*from Arabic – "a star which is bringing a gladness") whose golden-brown eyes could charm anybody. In a purple square amethyst is a soul of Amelie Madlane – a romantic and rather naive curly brown-haired girl with dark-blue almost violet eyes. In a bloody-red rectangular ruby is a soul of Abigail Salteformago – an extremely passionate brunette with scarlet lips. All they were suffered from the unrequited love.
Bonus rounds that disturb blood
The multi-coloured (green, blue, rosy, bluish, yellow, red and purple) geometric shape of a crystal is signed beneath like a "WILD". Yes, it is exactly that kind of symbols. "Tumbling Reels" is a round where after every time when the win combination will be landed by you, the symbols that were included in it will be disappeared and replaced by more falling "from sky" icons. (Such "fallings" will take place few times.) 3 consecutive win combos activate a bonus game – "Free Spins".