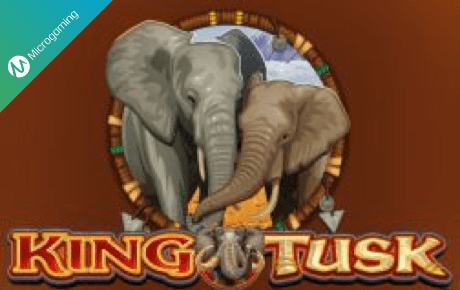 The Microgaming has made a hot video slot machine, which is based on a safari (A notice: From Swahili "safari" means a travel, being originally a hunting trip to East Africa. Later, the concept of the safari was used in other parts of Africa and even throughout the world. However, its significance has changed. Today the word "safari" often means quite peaceful and relatively inexpensive excursions to a wildlife, where animals can be photographed. In some countries, a whole industry has been developed with experienced attendants of Safaris.) Let's look at the main points of game process and its bonus rounds until the sun hasn't gone down…
Point 1: The gameplay of the King Tusk Slot
Five beige reels are set against the safari landscape in the regular slot's game. All players also can easily see the wonderful colours of warm sunrays of sunset. Before enjoying Africa, every player has to set a wager. Click on the "Bet" button and choose any desired number in the rage of from 0.25 to 62.50. To spin the reels, the players have to use the "Spin" button. To avoid a distraction of the players from the game, an interface implies the "Autoplay" option in this wild slot.
Now, let's look at symbols. On the left side of bright-lilac ''Q'', there is a brown vulture. Two terracotta butterflies are sitting on the top and the bottom of "0" of the fresh-violet "10". Next to the bottom of the honey-orange "9" sits a black dung beetle on a large litter ball. On the beginning of the green letter "J" is a cute lizard (its head is bright-orange, the body is dark-blue and the tail is white). Around the blue "K" places a green snake with a bright-yellow African flower almost on its tail. On the right side of the red "A" is a medium-sized light-brown suricate. In addition, a player can be pleased with a few images of the main symbol of this online casino: a sweet Tusk's (large grey elephant) family taking a "bath", a couple of Tusk and his wife. There are large violet, blue and yellow ornaments decorated with elephants on a pot full of golden coins as well.
Point 2: Hot bonus rounds in the King Tusk Slot
Here is an image of 3 elephants and a word "WILD" underneath their legs. It is the Wild symbol, which can substitute all the symbols, except Scatters. The red text "KING" and "TUSK" under it (every letter is made of elephant's tusk) is a logo and Scatter at the same time. It can appear only on the reels from 2 to 4. If a fortune is lenient, letting you collect 3 "Logos", this combination will bring you 10 "spins". Once it is triggered, you will be able to make a choice of three features: "Elephants Gone Wild", "Elephant Stampede", and "Elephant Dance".
Point 3: The verdict of the wild online casino
Forget about your being in any fussy city and dive into the atmosphere of bliss, feel the warm rays of the sun setting over the horizon! In order to play this hot gambling you just need to find it on our website. "Oh! I don't want to pass any registration and make downloads…" – you may think. BUT… There are no such limits! Enjoy Africa with all surprises and goodies that it has already prepared for you!