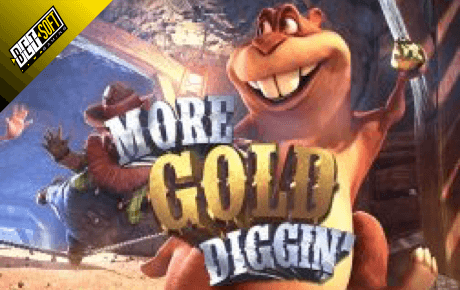 The game is the continuation of the popular BetSoft's game called "Gold digging". Despite the success of his predecessor, the "More Gold Diggin" slot itself also deserves attention. Together with two goldsmiths, Jeb and Cletus, the player is sent to produce gold. You find yourself in a mine of the times of a gold fever and your task is to drag out as much gold as you can. A hilarious ginger adds the color to the game, which is constantly mocking gold miners.
Gameplay and Prizes in "More Gold Diggin"
No downloads or registration are required. You can play the "More Gold Diggin" online for free or for real money, but the principles and bonuses still remain the same in both versions. Just select a bet and turn the drum. If you win, the next result doubles, with a second win, tripled, and so on. You can also double your winnings by playing with Daisy. There is the "bet max" possibility that greatly accelerates the process of the game. You can also use the "autoplay" where you choose bet per line and coin value, and also a number of automatic spins. As soon as you chose an automatic option, you can enjoy the animation. The characters in the game are represented by precious stones that can be found in the mine, as well as wild dynamite and TNT barrels, which give additional points!
Features and Bonuses "More Gold Diggin"
As was noticed by many, there are 3 combinations that will increase your gain and also one mini-game. Bonuses drop out accidentally, but it is up to you to decide whether to use them or not. Wild dynamite. It combines with everything, and destroys everything around after the series is assembled. Fortunately, it drops out quite often and simplifies the collection of the combination. TNT barrels. Collect 3 TNTs and activate the free spin mode. If you are lucky during the free spin, you can win an additional one and continue the game lossless. Matching symbol. In the game, a cascade multiplier system operates, each time you win the multiplier increases. Collect 3 or more matching symbol and enhance the multiplier. There are multipliers of x1, x2, x3 and x5. Double up mini-game. If you decide to double your points, click the double up button and an additional window will open. Play a game with Daisy for an opportunity to multiply your winnings. To start playing, press start. Then guess which card is higher than a Daisy's card, and if you are right, your result is doubled. However, if not, you will lose all your winnings. Note that you cannot double up more than 5 times. If you have appreciated the Gold Diggers you'd surely like this one. The game has colorful graphics, nice music and interesting characters. You will be very pleased with the presence of such characters as a gopher, his tricks are hilarious. If you do not move the mouse for a while, a funny animation with this little animal will appear. The "More gold digging" slot machine is a great example of the amusing casino play, where you can win a special prize – a jackpot of 12 000. If you are into gambling but have never tried it, this BetSoft's slot will bring you a lot of fun.