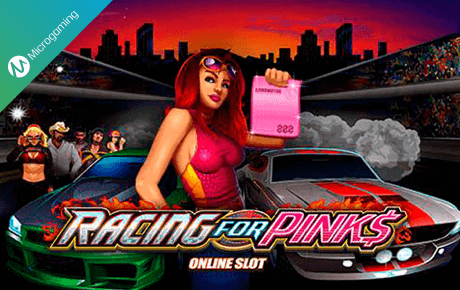 Racing for Pinks casino is a Microgaming Studio project which was created for the wide audience of players. Expensive cars and hot girls are the main theme of this game. The player should understand, that this game is all about entertainment and fun, so don't be shy to play it after grueling job or studying (you must be at least 18 years old to do that). Nowadays you don't need to go in any institution of Las Vegas if you want to do that. Just connect to the internet, and you will be ready to go.
Racing for Pinks – chase your dream
Don't waste your time and money on the personal computer. Developers adapted user interface and controls to any screen size there is. So you can easily play it on any mobile device: smartphone, tablet or anything like that. To launch the game, player, can pay nothing. Creators added free trial version for beginners, who have never played such projects before. It contains every basic element from the original mode. But to earn money, be prepared to sign up through developer's website.
Gameplay and Prizes
Gamer can't get in the car right from the beginning. You need to set some configurations to your account. To do them, use special panel right down to the gaming reel. It will give you a chance to manage the amount of money you are willing to bet with "Coin Size" and "Coins" section. Shortly after that, you can also use "Bet" option. It gives you an incredible opportunity to fully enjoy the game by spinning the reel. But that's not all functions, you can use in the Racing for Pinks online. Do you know your statistic? be sure to click on the "View Pays" section to get familiar with all information on the game. To simplify gaming process a little bit, gamer can use "Autoplay" mode. It gives you a chance to not focus on the game that much. It will automatically put your money at stake, specified number of times. Don't forget to check your stats, because you never know how many coins are you going to get, but be sure, that you will have small regular payments to your profile.
Racing for Pinks – game for speed fans
Features and Bonuses
To get profit from Racing for Pinks, player should follow one simple rule declared at the starting manual – collect similar lots within same paying line. Look closer to the gaming reel. It gives you a perfect look at how many characters there are represented. To get free spins, use two girl's icon on the first and fifth reel. Activate a chance to increase winning rate a couple of times. You can get thirty free spins at once.
But don't forget about some mini-games, that are also represented in this game. For example, it can be racing. If you will win in them, then be prepared for some bonuses and multipliers. Every aspect of the project perfectly fits your idea on becoming rich. Because only with mini-games and maximum betting you have a chance to win the jackpot of 1500 coins.